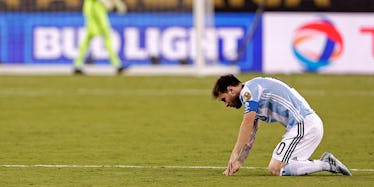 Lionel Messi Shocked The World With This Quote After Losing Copa America
USA Today Sports
Lionel Messi and Argentina lost Sunday's Copa America final, and yet their defeat wasn't the most surprising event of the night.
After Messi badly missed his spot kick during the game's penalty shootout, which helped Chile take the trophy at MetLife Stadium on Sunday night, the distraught Barcelona star shocked reporters with an out-of-nowhere announcement.
Some say Lionel Messi's #CopaAmerica penalty still hasn't landed pic.twitter.com/RNQBNKF3Dl — Dream Team (@dreamteamfc) June 27, 2016
Here's a translation via ESPN of what he told reporters in Spanish after the match:
My thinking right now and thinking about it in the locker room, I'm done playing with the national team. I tried my hardest, it's been four finals and I was not able to win. I tried everything possible, it hurts me more than anyone but it is evident that this is not for me. I want more than anyone to win a title with the national team, but unfortunately it did not happen.
Within this quote and on numerous occasions after the match, Lionel Messi reiterated he's "done" with international football, essentially announcing his retirement from the Argentinian national team at age 29.
This would mean the country would be without its all-time leading scorer at the 2018 World Cup in Russia, at which point he'd be 31 years old.
And it would also mean no more of this.
WATCH: Messi proves he's not human with this out of this world free kick: https://t.co/tnznUPHkZ6 https://t.co/lyldeiTwXQ — LA Galaxy (@LAGalaxy) June 22, 2016
Whether Messi will stick to his word is unclear, but what's certain is this: The manner in which he lost was so bad he actually considered quitting.
That's how heartbroken he was.