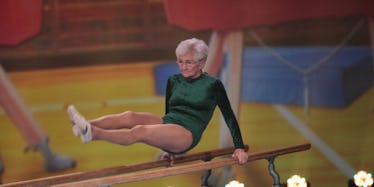 This 91-Year-Old Gymnast Is Seriously More Graceful Than You'll Ever Be
Dominik Bindl/Getty Images
You know how, every now and then, you see things that make you realize everything you thought about life was kind of wrong? And that the impossible is possible?
And that maybe, just maybe, everything is going to be OK?
That's kind of how I felt when I read about Johanna Quaas, the 91-year-old German gymnast who holds the title of "oldest gymnast in the world" in The Guinness Book of Records, an honor she first received in 2012.
Quaas still regularly competes in the Landes-Seniorenspiele in Saxony, Germany, and she's pretty darn beautiful to watch — as you can plainly see for yourself in this video that made its way to the Love What Matters Facebook page from German news service Tagesschau.
Could I do one of those graceful, flip-over thingies? Not in a million years.
Apparently Quaas, who was born in 1925 in Hohenmölsen, Germany, has been studying gymnastics for decades.
She was a coach, wrote a gymnastics textbook, worked as a physical education teacher,  and is even married to another gymnastics coach.
But it wasn't until over 30 years ago, in her late 50s, that Quaas started competing in gymnastics tournaments again.
Not a particularly common choice for someone in later adulthood, but that's what makes it all the more badass.
Quaas eventually made her way to the world stage in 2012 when videos of her impressive and graceful floor routines went viral on YouTube.
But there are plenty other videos to choose from if you want to get your Quaas on.
Not only does she still do floor routines, but Quaas works on the beams and the bars. Her strength and lightness while doing so are remarkable to watch, and dare I say, deeply moving.
It certainly makes you reconsider all those stereotypes we have about elderly people not being able to keep up with us younger folk.
But even Quaas has said her longevity and ability has surprised and delighted her.
Though she described herself as having been "sporty" from a very early age, she never thought it would be possible to do what she's doing now.
But she loves it. Training and competing still bring her so much joy.
I don't know about you guys, but I'm going to watch these videos anytime I feel like laying on the floor in a heap of my own smelly clothes instead of getting up to move my bones a bit.
While you might not end up with a world record, sticking to what you love and getting your body moving might just add years of happiness and mobility to your life.