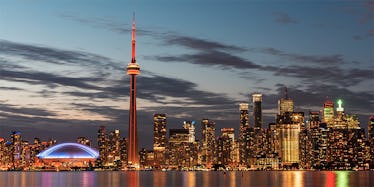 9 Reasons Why You Screwed Up By Not Going To All-Star Weekend In Toronto
Getty Images
If you came back to work on Tuesday thinking your Presidents Day weekend would've been better spent at NBA All-Star Weekend in Toronto, I've got news for you: you're right.
All-Star Weekend was amazing. Not only were the actual basketball events themselves worth the price of admission, but the host city also added so much more to the weekend.
There's a reason Toronto '16 was on our list of top destinations on the sports calendar this year. Simply put, you should've been there. Here are nine ways you know you screwed up by not making the trip up north.
It could've easily worked for Valentine's Day.
Let's get this out of the way first. Because Presidents Day weekend coincided with Valentine's Day weekend this year, I had multiple friends tell me they couldn't make the trip.
But, just so we're clear, there are worse V-day ideas than a trip to Toronto on a three-day weekend that just happens to feature famous athletes and celebrities in a city with great, inexpensive restaurants.
It was the greatest All-Star Saturday night in history.
One of the things that separates the NBA's schedule of All-Star events from other major sporting events is the fact that there are other things worthy of watching besides the main event itself (which makes the weekend getaway worth even more).
This year, All-Star Saturday night did not disappoint and was actually the greatest ever. A big man won the skills competition, two stars from the league's best team went head-to-head for the Three Point Contest crown and to top it all off the weekend also hosted the best dunk contest in history.
There was a celebrity at practically every party in town.
At practically every nightlife venue of note that you could go to, there was a celebrity, athlete or artist worth seeing.
Chris Paul and Kevin Hart threw a party on Saturday night. So did Drake. And, the night before, Viber had an All-Star party hosted by YesJulz and DJ'd by EscoBoomin. Simply put: it was on fire.
The Canadian Dollar Is Cheaper...
There's a reason I chose this picture to represent this point: it was a major key all weekend.
The Canadian dollar is worth significantly less than American dollars, enough for you to be pleasantly surprised when you look at your credit card bill upon returning to the States.
How much of a difference does that make? Enough to buy so much from the Eaton Center mall that you have the check an extra bag on your way back.
...And the people are nicer.
The stereotype about Canadian people being nicer is pretty legit, so much so that I (and they) can barely fathom the way we act.
After a friend I met explained to me how she couldn't believe the types of cultural clashes that exist in America, I was convinced we're relative jerks compared to everyone in Canada and that they all think we're crazy.
And then there's the coincidental irony that you had Monday off from work to celebrate a slave owner's birthday, while they had Monday off to celebrate time with family.
I don't even need to elaborate on this point.
Bonus events made the weekend even more fun.
Once upon a time, yours truly thought that the best part about going to major sporting events were the sporting events themselves.
Wrong.
Whether you're going to X Games, the Super Bowl or NBA All-Star Weekend, you'll quickly learn that an in-person visit means a chance to visit a near-unlimited amount of ancillary, fun events thrown by brands that will give you a chance to see your favorite stars.
Need an example?
This tweet from Russell Westbrook sent a whole bunch of a fans to Mountain Dew's virtual reality art experience, where NBA players embarrassed themselves all weekend trying to make 3D masterpieces with Google's tilt brush.
You can get more than a hotel, at a cheaper rate.
Even during All-Star Weekend, a time during which prices have every reason to be inflated, one could easily score a nice condo on Airbnb.
It's really as easy as I made it sound.
The flight is super easy (assuming you live in New York).
Maybe this is a biased take, given that Elite Daily is based in Manhattan (actually, it's definitely a biased take), but the flight from the Northeast to Toronto is super short and super cheap. Even on short notice, a round-trip ticket would probably run you no more than $300.
And that's if you're chronically bad at responsibly handling trips in advance.
It was Kobe's last All-Star Weekend.
This is a sort of obvious point, but it needs to be said nonetheless. Kobe's last All-Star game was history, and the in-stadium tributes that the NBA put on for the Lakers legend were truly touching. And it was all part of one helluva All-Star Weekend.
Oh, and speaking of YesJulz in Canada...