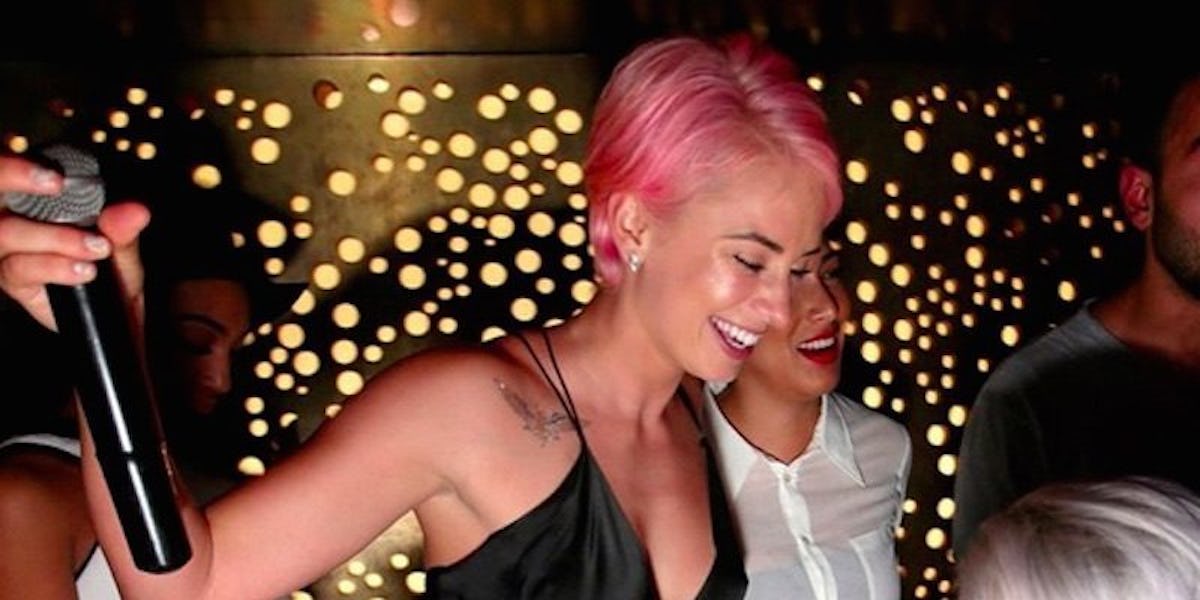 YesJulz Is Friends With LeBron, Has A Body By Yoncé And Is Dishing Dirt
Forget a quarter life crisis; Julieanna Goddard is living the Millennial dream.
Better known as YesJulz, the 25-year-old Snapchat "It" girl and self-proclaimed Director of Vibes in Miami has cultivated a brand on the pulse of carefree youth culture.
"I've always enjoyed sharing experiences. That's why I love to throw parties and host events," the adopted Tampa, Fl. native says alongside a Miami pool, her office for the day. "I knew Stories on Snapchat would turn into everybody having their own television show, so I documented my everyday journey and a few people cared to watch."
She's being incredibly modest.
With over half a million viewers, more than a "few people" tuned in to catch glimpses not only of the industry's elite, but also endearing moments of Julz executing the kind of charity work Angelina Jolie would be proud of.
Her relatable snaps about dream chasing and traipsing the globe with an all-girl crew –– they spend their days working and their nights raging in America's spiciest hotspots –– keep kids tapping. (F*ck #saveourthumbs.)
Before turning up at Brooklyn's Greatest Day Ever event with Travi$ Scott this past weekend, social media's resident party girl dished on how she lives out her best days.
On consuming blogs for breakfast:
This is probably bad, but before I even get out of bed in the morning, I check my phone, my emails and blogs like Complex, Fader and The New York Times. I consider it my job not only to throw parties and be hospitable, but also to know what's going on in music, fashion and culture.
On her road to a Yoncé body:
You'll see a change after one week at Barry's, no questions asked. It's really strenuous, so you're in this class thinking you're gonna die and you find some way to push through it. You feel like a beast! You feel like you're on top of the world! Nobody can say anything to you after you complete a Barry's class. But if it's a little scary, and you don't want to do Barry's then do boxing. It's super fun, the time goes by fast and it's competitive. It's just a fun way to work out.
On balancing heavy partying and a lean physique:
I don't have all the answers. Since December, I haven't even spent a whole month in my own home collectively, so I'm just trying figure out how to eat well and work out. I go through ups and downs with it. It's hard to be on-the-go, at the airport, taking meetings in restaurants that are delicious and eat healthy and sometimes I fall off. But whenever I wanna be bad, I think about Beyoncé and just try to be good. Always ask yourself: What would Beyoncé do?
On drinking and hitting reset on your alcohol binges:
You'll never see me sloppy drunk. If I'm not with good friends and there's no real reason to celebrate, I don't even drink or I limit myself to two glasses of wine. When you do as many events and parties as I do, you have to set some kind of boundary because if not, you'll be drinking every night. Mostly, I just keep a glass of Sprite or something in my hand so people don't bother me. I hate being offered a drink every five seconds.
On swapping out donuts for quinoa:
There are a lot of healthy dishes that are tasty and won't make you sad when you're friends order their food, you know? The quinoa bowl at Soho House is delicious. (Casual.) I used to be a big breakfast eater but I notice that it slows me down, so I start off with something that'll give me fuel. For lunch, I'll have quinoa, a salad or a wheat wrap, and at dinner, I stick to fish as often as possible. I'm trying to wean myself off red meat.
On the importance of simplicity and sneakers:
I love a good pair of sneakers that I can wear in the daytime and nighttime. We're in a time where you can be overdressed more than underdressed, so I just like to keep it clean-cut and basic and jazz it up with accessories.
On what's in her designer bag:
Oh, my eyelashes have to be on fleek at all times, so I have MAC primer and Diorshow mascara. Sonia Kashuk, Make Up For Ever lip stains and my mophie are essential, too. Honestly, I keep two mophies because everything's off my phone. The minute my phone dies, I'm late for work.
On making life-changing impact on a budget:
It's mind-boggling to me that there are people out there with 22 million people following what they do every single day, and all they do is talk about themselves. You have the largest platform in the world and you're not even doing anything to bring a light to dark situations, or use your connections or money to make the world a better place? What kind of legacy are you leaving? And it's really not expensive. There are tons of ways to offset your costs, even places that will house you for volunteering. And if you can't, you can do what we do in our own backyard: #HashtagLunchbag. Get a group of friends together, go to the grocery store and make bagged lunches for people.
On rolling with winners like LeBron James and Ronnie Fieg:
Being a regular girl from a family with nothing and becoming friends with people who have things I'd only seen in movies was, at first, a culture shock. Now it's normal to me and motivating more than anything. You are who you surround yourself with. It's a blessing to be friends with people like Ronnie Fieg, who inspires me to pay attention to detail and focus on my brand. So, I look around me and I'm like, wow, Ronnie is about to have the sickest store in Brooklyn and LeBron is in a new movie. What am I doing next?