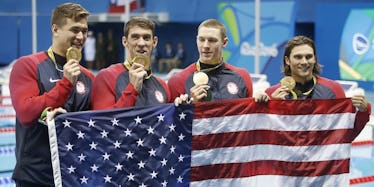 9 Quotes From Rio's Top Olympians To Inspire You On Your Job Search
REX/Shutterstock
While you were sitting around and living that post-grad lifestyle of frantically applying to jobs while binge-watching "Stranger Things," the best athletes in the world were racking up Olympic medals and setting world records.
Yeah, you're definitely not the only one feeling unaccomplished.
Chances are, the "I can take on the world" high you felt at graduation has fizzled into nothing but nagging, self-deprecating thoughts. You can't stop refreshing your inbox, and you take every incoming call -- even if you know it's a cold call -- hoping at least one recruiter will take pity a chance on you.
There's no shortage of bills and loans you need to start paying off, and the pressure's on. You might be feeling like you have to hustle to catch up with everyone else, but stop being so hard on yourself.
The athletes in Rio definitely didn't get to the Olympics without suffering their share of losses and failures, too. We even saw some of these god-like humans mess up and let down their teams after years of training (BRB, still crying over Tom Daley).
You might not be able to do two back layouts with a half twist like Simone Biles, but you can definitely get through this frustrating and trying time. These nine quotes by Rio's top Olympians will help you get out of this post-grad rut and land a job.
1. "I think goals should never be easy. They should force you to work, even if they are uncomfortable at the time." -Michael Phelps
Even Michael Phelps, casual owner of 28 Olympic medals, continues to set new goals for himself. If that doesn't inspire you to keep working on yourself, I don't know what will.
2. "Hard days are the best, because that's when champions are made." -Gabby Douglas
Without her share of challenges, Gabby probably wouldn't have become a three-time Olympic gold medalist.
3. "I wasn't going to let it go. I got up quickly. I thought about my family. It made me emotional. I thought 'get through, get through.' I believed in myself." -Mo Farah
Mo Farah didn't let a mid-race fall stop him from pushing through to win his track and field event. Just because you experience rejection doesn't mean there isn't something else for you out there. All you need to do is pick yourself up and move on to the next thing.
4. "I was looking for perfection in everything...What I have is enough." -Helen Maroulis
Maroulis won her first gold medal by defeating Saori Yoshida, one of the best female wrestlers in the world. She didn't need to be the perfect wrestler on paper in order to become a champion. Even if you don't fit a job's qualifications to a T, you can use relevant experience and skills to get yourself a position at a company.
5. "The only thing on my mind was I had to do this.'" -Neymar
With the weight of his country on his shoulders, Neymar managed to help Brazil earn Olympic gold in soccer by scoring the winning goal in a shootout against Germany. All you can really do during this time is keep your eye on the prize and try not to doubt your abilities (even when it seems like no one appreciates them).
6. "When you love something, you're gonna find ways to improve." - Kyle Snyder
Snyder was able to throw down a man who had 13 years and two bronze medals on him to become the youngest American to win gold in wrestling. Even though you might not have numerous years and job positions under your belt, you can always find ways to get ahead of the competition, like having a standout cover letter or interview.
7. "The sun came out the next day. We've just gotta keep our heads held high." -Jordan Larson
The US women's volleyball team didn't let themselves get down over a loss to Serbia. Instead, they battled it out for bronze and won. A rejection is just another chance to improve yourself for the next opportunity that comes around.
8. "That's family, you know? Win or lose, they love you just the same." -Allyson Felix
Felix had a gold medal in sight at the 400m race, but lost out at the finish line. She wasn't torn up about it because, hey, at least she made it to the Olympics. Even if you feel like a failure, surround yourself with people who remind you that you're fucking amazing, regardless of your employment situation.
9. "Even if you have rough days, those make you a lot stronger...just push past those, because something good is coming." -Laurie Hernandez
With a silver and gold medal under her belt, 16-year-old Hernandez knows you can't accomplish anything by being pessimistic. Treat every rejection as an opportunity to reflect on yourself, your values and how you're presenting yourself as a young professional. And most of all, believe in yourself and your talents -- even if you haven't earned any Olympic medals to put on your résumé.