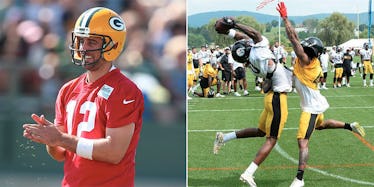 20 Highlights From Training Camp To Make You Thirsty For NFL Season
Facebook
We can finally see the light at the tunnel.
With the NFL set to hold its annual Hall of Fame induction this weekend, which always concludes with the first preseason game of the summer, the good ole gridiron is finally appearing over the horizon.
Training camp is in full swing, and teams have gotten back to business.
And while we all know preseason and training camps are a watered-down version of what we really want, we take we can get in the notoriously un-busy sports summer.
Hey, beggars can't be choosers. And besides, within our favorite teams' returns to practice are little gems that give us teasing previews of what's to come.
These highlights fit that description perfectly, too, and will undoubtedly have you even more thirsty for the start of football season.
If you haven't been paying attention, the Raiders receiving core is legit.
Wow. Wow. Wow. —> RT @Raiders: @Brice_Butler http://t.co/lN6Y4O4GDM — NFL (@NFL) August 3, 2015
The return of Revis Island to New York is much anticipated.
.@Revis24 vs. @BMarshall: Part I https://t.co/iMiEtst2Lw — New York Jets (@nyjets) August 2, 2015
You just know they're ready to hit somebody.
Jonas Gray & Brandon Bolden hard at work on the first day in pads at #PatsCamp https://t.co/LAteWPjGXs — New England Patriots (@Patriots) August 1, 2015
Aaron Rodgers really shouldn't be this accurate from 45 yards.
.@AaronRodgers12 might have the best arm ever pic.twitter.com/SuctsvbQTN — uSTADIUM (@uSTADIUM) August 3, 2015
The Titans aren't really looking too good.
If training camp is any indication, the Titans might be in for some trouble this season... pic.twitter.com/VwsvXWi76p — Sports Comedy (@SportsComedy_) August 4, 2015
Sammy Watkins with the burners:
@sammywatkins just doing what Sammy does....... pic.twitter.com/T9zj1Ym5Gb — Bills4Life (@billsmafiagrip) August 4, 2015
A look into the life of a rookie running back at training camp:
In honor of @TG3II's 21st birthday, we let him run wild with the @GoPro helmet cam​! Enjoy! #RamsCamp https://t.co/Ji0Y6MhwNI — St. Louis Rams (@STLouisRams) August 3, 2015
Life Hack: Draft Brandin Cooks for fantasy.
The Jameis Winston-Mike Evans combo will be fun.
Here's short pass from Bucs QB Jameis Winston to WR Robert Herron with Johnthan Banks in coverage. pic.twitter.com/b9z80WEG0o — Greg Auman (@gregauman) August 2, 2015
Even Tom Brady's catching touchdowns.
"@NFLRT: Julian Edelman throws a TD pass to Tom Brady in Patriots #TrainingCamp pic.twitter.com/aspfNWe0op" #JUCOPRODUCT — JUCO Football Frenzy (@JUCOFFrenzy) July 30, 2015
You don't want to be in front of them.
These #Redskins D-linemen are no joke. #SkinsCamp https://t.co/ZMuDWIeNwz — #SkinsCamp (@Redskins) July 30, 2015
This guy should help Andrew Luck a bit...
Great run by Frank Gore today at @Colts #ColtsCamp!! I'm so pumped for this season!! #football #ColtsNation pic.twitter.com/NgYHNRoUyA — Julie Boardman (@boards_17) August 4, 2015
So, is this one a catch?
Dez getting it done in training camp #Cowboys #DezBryant https://t.co/p1aaQWMiZE — gifdsports (@gifdsports) August 4, 2015
This is a warmup, but get that Salsa ready.
WATCH: QB Eli Manning completes to WR Victor Cruz at #GiantsCamp http://t.co/JlOt1CHxD7 — New York Giants (@Giants) August 1, 2015
Well, the running back competition in Dallas is open...
Didn't realize Lache Seastrunk was on the #Cowboys roster until @Jones_Drew32 told me just now. Kid's so gifted. https://t.co/YDAo9AQ0gE — Rand Getlin (@Rand_Getlin) August 3, 2015
Juice being Juice.
Such a sick video of Juice @MiamiDolphins pic.twitter.com/Yi8XtU7hc8 — Mike ScreenShot Gawd (@iRepTeamHEAT) July 31, 2015
This'll be handy come playoff time.
64-yarder? Not a problem for Tucker. WATCH the full play: http://t.co/b4gpphwa9p https://t.co/usgNkyCEsp — Baltimore Ravens (@Ravens) August 4, 2015
Yup, AJ Green's still unstoppable.
AJ Green catch of the day vs. Pacman at @Bengals camp. pic.twitter.com/8Eb80wZ8Mw — Brandon Saho (@BrandonSaho) August 2, 2015
Double or nothing.
Johnny Manziel hits Shane Wynn, who put on an impressive double move to get wide open and score the TD. #Browns pic.twitter.com/JbeFfNir1e — Hayden Grove (@H_Grove) August 5, 2015
Feet aren't supposed to move this fast.
Antonio Brown is a savage pic.twitter.com/lejddPcDcE — Andre McCants Jr (@Chief_dre36) August 4, 2015
Ah, Week 1 really can't come soon enough.