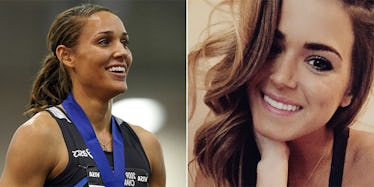 10 Females Athletes Who Would Be A Better Bachelorette Than JoJo
When I noticed "The Bachelor" had reached its "final rose" phase on Monday night, I already knew what time it was.
The end of the 20th season of the show had come, which meant the official announcement of who the next Bachelorette would be couldn't be far behind.
And so it was, "The Bachelor" runner-up JoJo Fletcher was announced as the new Bachelorette after getting her heart ripped out by Ben Higgins.
But even with her spot sealed and filming for "The Bachelorette" set to start on Tuesday night in LA, we can't help but imagine some alternates to replace JoJo.
And with Aaron Rodgers' brother rumored to be appearing in the next series, sports are going to cross over with this sector of reality TV sooner or later.
So let's jump in on the conversation early, shall we. Here are 10 athletes who would actually be perfect for "The Bachelorette."
Miesha Tate
Everybody knows the perfect time to shop yourself to a new employer is when you just capped off your hottest month, and that's exactly what Tate had after upsetting Holly Holm.
The other thing about Tate is she's the type of hot that seems like she doesn't know she's hot yet and therefore does not know how to flaunt said hotness.
So then you get stuck taking your time trying to figure out if she's hot all while getting attracted to her personality and drooling over the untapped potential. I imagine the men chasing Tate would have a little something of the "I don't know what it is about you" type of infatuation.
Anyway, you also have to be crazy to fight MMA for a living, right? Crazy is never bad.
Lolo Jones
Lolo has arguably the perfect mix of hotness and character to make the show work.
She's down to earth, not afraid to put herself out there and super goofy. She's the perfect person to ensure all the boring candidates get weeded out instantly, plus she's even put together an "audition tape" for the show's producers.
Oh, and one more thing. She's openly abstinent. So those guys would have to jump over some serious hurdles to get to her.
Get it? Cause she's a track and fie -- let's move on.
Serena Williams
The Serena sweepstakes would be the most entertaining thing on TV for two reasons:
You know she plays no games.
If any Bachelorette would be intimidating, it'd be Serena.
Besides that, Serena has to be heading toward retirement (she can't be invincible forever, I think) so she might be looking to settle down soon.
Good luck trying to do better than her last man, though.
(And don't ask her to smile, either.)
Aly Raisman
This summer will almost certainly be Aly's last Olympics, and with seven-hour training days, you know the gold medalist hasn't had time to get in on the dating scene.
She's clearly not camera shy, either, and already has the intro video for the show to use. She'd be something like a "batteries already included" version of a Bachelorette.
Christen Press
At 27, Christen's at that perfect age where she's accomplished enough, good looking enough and well-traveled enough to be a catch for any man. Meanwhile, she's walking in friends' weddings, which are always thought-provoking.
"Is it my time?" she asked herself (I'd like to think, at least), as she took this picture. I say, "Yes, damn it! Yes it is time."
Also, not for nothing, but she described her style as "flirty meets its edge." I don't know what that means, but I'd love to find out, specifically on national TV on Monday nights between the hours of 8 and 9 pm EST.
Victoria Azarenka
At the end of the day, "The Bachelorette" needs someone who is always down for a good time. Follow Vika on social media, and you'll notice her doing everything from having a make-your-own-pizza night to going to Bulls games to trying out "ratchet Zumba" (it exists, apparently).
Plus, creating an intersection between her innocence and the crazy, underhanded tactics all "The Bachelorette" contestants eventually stoop down to would make for interesting storylines.
Elena Delle Donne
I want to see this happen for pretty straightforward reasons. First, the guys having to look up to the Bachelorette would be an absolute first, and it has to happen soon.
Second, her dog has an Instagram account, and there's always a legitimate question to ask when it comes to whether obsessive owners like that have any love left to give.
Plus, a "meet the teammates" date has just as much potential for drama as a "meet the family" episode.
Ali Krieger
At 31, Ali is that type of "I can't believe she's single" single. Those types always make for the perfect people to put in the lead role for both "The Bachelor" and "The Bachelorette."
It's also clear from her Instagram she loves the men in her family, even calling them her body guards in this post.
I can only imagine this would lead to scenes half as good as what happened when Ben came up against JoJo's brothers.
Lindsey Vonn
Gone are the days of Vonn hanging on Tiger Woods' arm. She's single now and deserves to mingle.
She was Woods' first girlfriend after his marriage went through Armageddon in public, so handling all the baggage and drama the guys bring would be no problem.
Also, her reasons for dating Woods? She apparently likes the "dorky" and goofy type. That always leads to some outside-the-box candidates getting a rose.
TV loves plot twists, and TV would also love Vonn.
Maria Sharapova
Clearly, she has time on her hands, and her candidacy for this role has a trio of factors playing in her favor.
She has a made-for-TV face, she's used to making apologies in Los Angeles and the hometown meeting with her family would put some poor souls through the gauntlet of a Russian household.