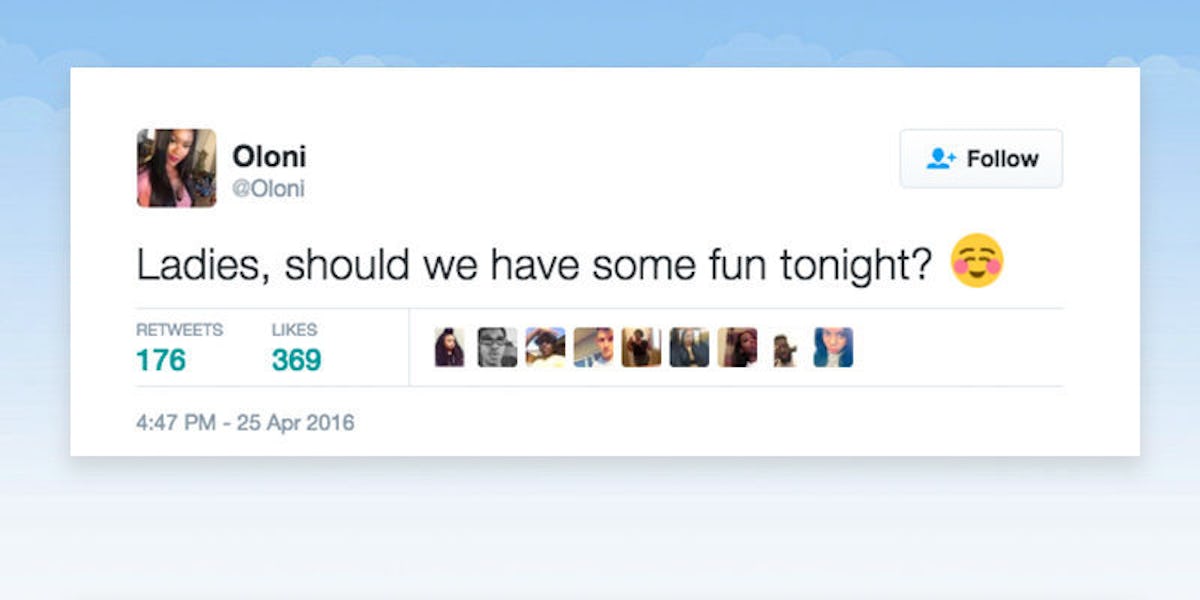 Women Started Tweeting Sex Stories And Some Men Really Couldn't Handle It
Sex and relationships blogger Oloni doesn't care if you're comfortable, insecure dudes of the Internet, and neither do her followers.
The London resident who runs the award-winning blog Simply Oloni tweeted a request for women to share their "hoe stories."
She asked female followers to send her their juiciest tales of hoetrepreneurialism.
Ladies, should we have some fun tonight? — Oloni (@Oloni) April 25, 2016
I want to know your hoe stories! LADIES only. DM it to me & I will share anonymously. — Oloni (@Oloni) April 25, 2016
Have you had sex with two guys in one day? Fucked your girls man right under her nose? DM me. I'm intrigued. — Oloni (@Oloni) April 25, 2016
Ladies sent Oloni anecdotes ranging from threesomes and sex tapes to cheating on boyfriends with their brothers.
The ole Surprise Cousins Routine even made an appearance.
Sometimes men know & do not care pic.twitter.com/X7eCMR2tIs — Oloni (@Oloni) April 26, 2016
While plenty of followers got a kick out of the crazy, candid stories, certain male followers felt their fragile masculinity being threatened.
Soon, the hypocritical tweets began flooding in.
@Beyonce gave girls so much life lately with but @Oloni has completely destroyed all that. Some of us knew that about girls already tbf — Prince Knox Alozie (@PrinceKnoxEnt) April 26, 2016
Though the double standard somehow wasn't apparent to these guys, tons of followers were happy to point it out.
The Oloni stories are normal. That doesn't change anything or how you should treat your woman . Love snd trust is . — goodvibesonlyy__ (@ThaReal_DEEDO) April 26, 2016
Why are y'all freaking out over that Oloni thread. I thought y'all already heard "what a man can do a woman can do better" — A God (@Mys_p) April 26, 2016
Guys reeling over these confessions, don't worry. You'll learn to manage your paranoia. We women have been doing it for centuries.
Citations: Women are sharing their sex stories on Twitter and guys are freaking out (Mashable)