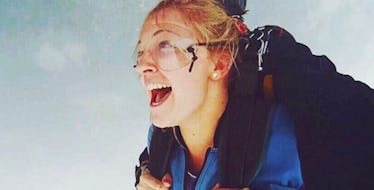 Woman's Unsent Text Before Almost Dying Will Move You To Tell Someone You Love Them
Instagram
Every so often, life sends out reminders that the most important thing for anyone to do is to remind their favorite people that they love them.
And for one incredibly brave 23-year-old, this couldn't be more true.
Emma Carey was vacationing in Switzerland with a friend when the two decided to go skydiving. But what came next was the kind of near-death experience nightmares are truly made of.
After jumping out of the plane, both Emma's parachute and her emergency chute got tangled, ultimately choking her instructor and causing him to go unconscious while he was strapped on top of her.
Emma revealed on her Instagram that she "fell from the sky" and crashed into the ground, which paralyzed her body from the waist down.
Despite the experience changing her life in every way possible, the thing that stood out most to Emma following the incident was a text message she drafted but never sent to her ex-boyfriend.
The message began, "If I die tomorrow, I just want you to know..."
Emma wrote on her Instagram,
Flash forward 12 hours and there I was falling to the ground wondering how on earth I could have possibly felt too ashamed to tell someone I love them. Wondering how the eff I could have denied both of us such a beautiful thing. Wondering why I was only seeing one face when they say your whole life is meant to flash before your eyes. Wondering how I was going to die when my final thought before I hit the ground was 'I wonder if they know I love them.'
From that day on, Emma set out to be totally open and honest with the people she cares about, regardless of feeling embarrassed or ashamed.
She explained, "Since that day I have been completely honest with people and tell them exactly how I feel regardless of how insane I may seem. I promised myself I would do this because I know for a fact that no rejection or unrequited love could ever hurt as much as the regret of unsaid words."
Fortunately, Emma went on to have a truly remarkable recovery, shocking her doctors by being able to walk again within a year following the accident.
However, despite her swift recovery strides, the nightmare fall continued to haunt Emma, leaving her feeling detached from the life she knew. This prompted her to move to the Gold Coast in Australia for a fresh start.
She said, "I guess you could call it running away, but I was running with a purpose."
Today, she continues inspiring her 70,000 Instagram followers by journaling her recovery and sharing the wisdom this life-changing event has brought her.
Emma wrote,
If there's one thing you take from what happened to me, please let it be this... Tell people you love them, call someone you miss, kiss people with two hands, be unapologetically in love, catch a flight and say it to their face, press the send button on a risky text.
She added, "I've learned that a bad situation has whatever ending you want it to."
We can all take a page out of Emma's book and continuously tell the people we care for most that we love them. Even if the warm fuzzies aren't your thing, a few small words can make a world of a difference in the blink of an eye.
Best wishes to Emma for continued health, happiness and love!
Citations: 'If I die tomorrow I just wanted you to know...': Prophetic text message written by woman to a loved one the day before she had horror skydiving accident that left her PARALYSED Read more: http://www.dailymail.co.uk/femail/article-4311068/Emma-Carey-sent-text-message-skydiving-accident.html#ixzz4bJvL8OEX Follow us: @MailOnline on Twitter | DailyMail on Facebook (Daily Mail Australia)