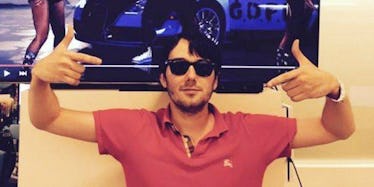 Woman Says She Matched On Tinder With Guy Who Raised Cost Of AIDS Drug
Martin Shkreli
DREAMBOAT ALERT!!!
End the hook-up culture smack talk now. Tinder is for true love good-natured debates regarding capitalism, and user Eve Peyser is living proof.
When the casual swiper allegedly matched with Martin Shkreli, famous for hiking the price of an important AIDS drug by more than 5,000 percent, she decided to dive in and see where the "most hated man in America" was coming from.
Peyser called him out for valuing profit over people.
She questioned capitalism.
She called him "the Snowden of AIDS drugs."
Ultimately, it is unlikely the pair ended up taking the chat as far as texting or a date in the flesh. Shkreli's vow to lower the price of the drug shortly after backlash over the price hike will hopefully help his dating future.
Citations: She Tinder-Matched With "The Most Hated Man In America" & This Is What Happened (Refinery 29)