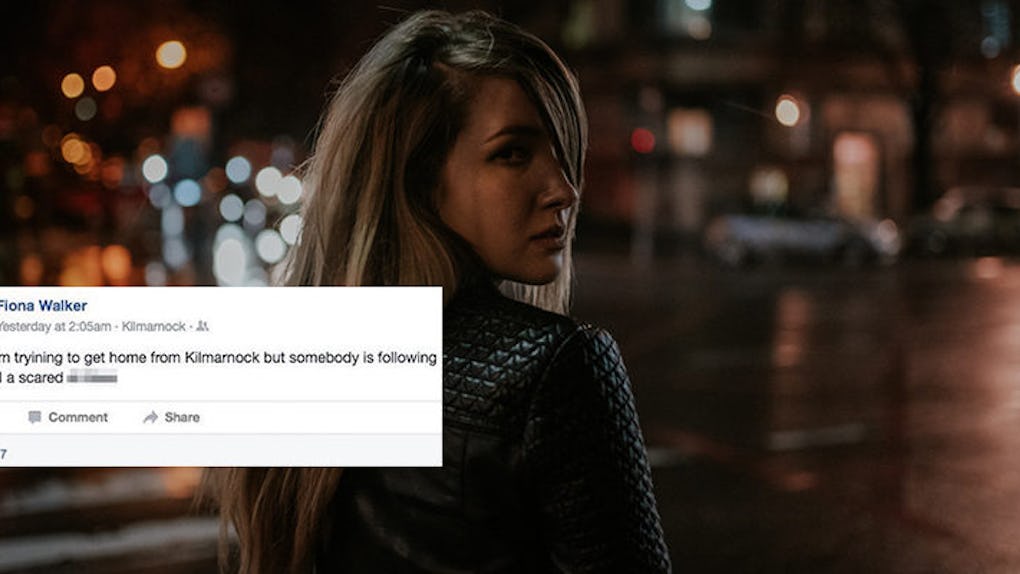 Boris Jovanovic
Woman Posts On Facebook In Real Time As Stranger Follows Her
It think it's safe to say every woman has nightmares about being followed home by a creepy stranger.
Therefore, you can imagine how freaked out Fiona Walker must have been when her fear of being followed suddenly became a reality.
Apparently, Walker was leaving a Christmas party in Kilmarnock, Scotland, and couldn't find any cabs to take her home.
So, she started walking toward her house, which was five miles away in the town of Stewarton.
Walker told the Daily Record,
I'm not stupid enough to walk all the way to Stewarton, but because I didn't know what time I'd be heading home, I didn't book a taxi. When there were none in town, I just assumed I'd be able to flag one down if I started walking.
However, soon after she started her journey home on foot, Walker discovered she was not alone.
A mysterious man was following her. This guy was in no way being discrete about the fact that he was hot on Walker's heels, either.
Although Walker's first thought was to call the police, the man was so close to her, she was too afraid he would hear her call for help.
So, she silently turned to social media, posting lives pleas for help on Facebook as the strange man continued to pursue her.
Walker's messages were garbled because she was trying to hide the fact that she was frantically typing on her phone.
Her first Facebook message read,
Help - I'm tryining to get home from Kilmarnock but somebody is following me and I a scared shitless.
When someone responded to Walker's terrifying plea by telling her to call the police, Walker said the man was right beside her, and she was so scared, she thought she had gone the wrong way.
Other concerned friends tried to help Walker by sending her the phone number for a taxi service. One friend even offered to call the police for her.
Luckily, one of Walker's friends happened to be nearby. He saw the post and came to her rescue by driving along the same route to find her.
When Walker's hero friend showed up, the man covered his face with his hands and fled.
Police are now warning people to keep their wits about them, especially when traveling alone over the holidays.
A police spokesman said,
When planning a night out, stick with friends, charge your mobile, and think about how you will get home safely. If using a private hire, book it in advance and use a licensed taxi if you are unable to arrange for family or a friend to pick you up. On no account leave with a stranger.
So, long story short, do whatever you can to avoid stranger danger and don't walk five miles home by yourself in the dark.
Citations: Woman posts terrifying live updates as strange man follows her home from Christmas party (Metro)