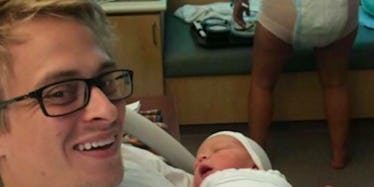 Woman Posts Pic Of 'Giant Mom Diaper' To Prove Important Point On Childbirth
Amanda Bacon
You know, sometimes in life, a picture speaks more than words ever could. This is no exception.
Introducing Amanda Bacon (she's already winning with that name). The Baconator rocked our innocent little world with this post-baby image:
Wow. I mean, just wow. Serious #diapergoals.
It's really something, isn't it? I didn't even know they were real. I assumed they were an urban myth, like alligators in New York's sewers (someone please tell me there's truth in this).
Commander Bacon posted the majestic picture on Facebook to highlight motherhood in its true, gritty, beautiful glory.
She summed it up perfectly with this line:
"This is motherhood; it's raw, stunning, messy, and freaking hilarious all rolled into one."
Mama Bacon went on to say this side of motherhood is barely talked about. She wants people to "empower and embrace" every aspect of childbirth — even the messy diaper.
The picture's been liked more than 369,000 times. The mom says on her Facebook page that she's going to write a blog soon, and if it's anything like this piece of comedy gold, then we're all onboard.