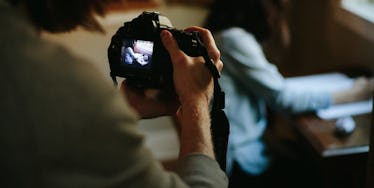 This Woman Accidentally Photobombed A Celebrity And Got A Modeling Contract
If you're a major fan of miraculous dreams coming true on "The Princess Diaries" level, then Olajumoke Orisaguna's story will melt your heart with equal parts love and envy.
During a photo shoot with rapper Tinie Tempah in Lagos, Nigeria, photographer TY Bello was lining up a shot when local bread seller Orisaguna accidentally walked into the frame.
Bello posted the resulting snap on Instagram.
She captioned the photo, writing,
The beautiful bread seller in the red dress in one of my edits for instance… That one that every one on the street wants to marry… She's fine and she knows it. its all over how she walks… She walked onto our set and magic happened ..it wasn't planned at all.
The rapper also shared a photo of the 27-year-old.
After followers began inquiring about the beauty, Bello suggested they help track her down via social media.
As usual, the power of the Internet knows no bounds, and Bello and the woman reconnected a week later for a photo shoot for the cover of Nigeria's THISDAY Style magazine.
The mother of two posed in elegant evening wear with her youngest child, 14-month-old Grace.
Director Ema Edosio documented the shoot in a short film.
In a clip, Bello said,
It was fantastic to watch her transform and become this persona, but it would mean nothing if she has to go back to her old life.
It's unlikely Orisaguna will sell any more loaves as she recently signed with Few Model Management to live the life most of us can only imagine.
Citations: How To Get A Modelling Contract: Olajumoke Orisaguna Scouted After Accidentally Walking Into Tinie Tempahr Photo Shoot (Huffington Post)