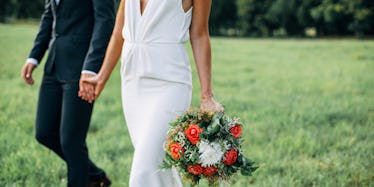 Woman Finds Wedding Date On Twitter And Ends Up Marrying Him, So Love Is Real
Studio Firma
Ladies, Lila Apostolou has cracked the dating code and you're going to want to take some notes.
This Londoner set out to find a date for her sister's wedding on Twitter in 2014. Little did she know, she and the unknown man at the time would end up at the altar themselves three years later.
If you're swiping left, right, up, down, and whatever other direction you possibly can on dating apps, you're doing it all wrong. Try Lila's method: social media.
It all started out rather simply (and conveniently) on Twitter.
She put out a call to a fella (bonus points for a father) who could accompany her to a wedding, which she later revealed was her sister's.
She got a response to her request, and boy was he was an Eager McBeaver.
He already has the suit, Lila. How could you say no to that?
This enthusiasm was enough to score Phil a date.
"See you at the altar," Lila replied.
Phil's grandma was even getting excited about the date.
We can see where he gets his enthusiasm from.
Almost exactly three years later, Lila tweeted a photo of a gorgeous bed.
The catch? She just woke up in the four-post bed ... with her husband. 
Yep, her husband is Phil, the guy who was ready to take a stranger to a wedding.
Here's a photo of the newlyweds leaving the registry office, and it looks like true love to me, folks.
Funny story, though...
... Lila didn't actually end up taking Phil to her sister's wedding, but they did meet that same week.
If this isn't enough to convince you that love still exists, I'm not sure what will warm your cold, black heart.
If I were you, I'd pay awfully close attention to those tweets from now on — you never know who you're going to meet with those 140 characters.
Elite Daily has reached out to the newlyweds but did not hear back at the time of publication.