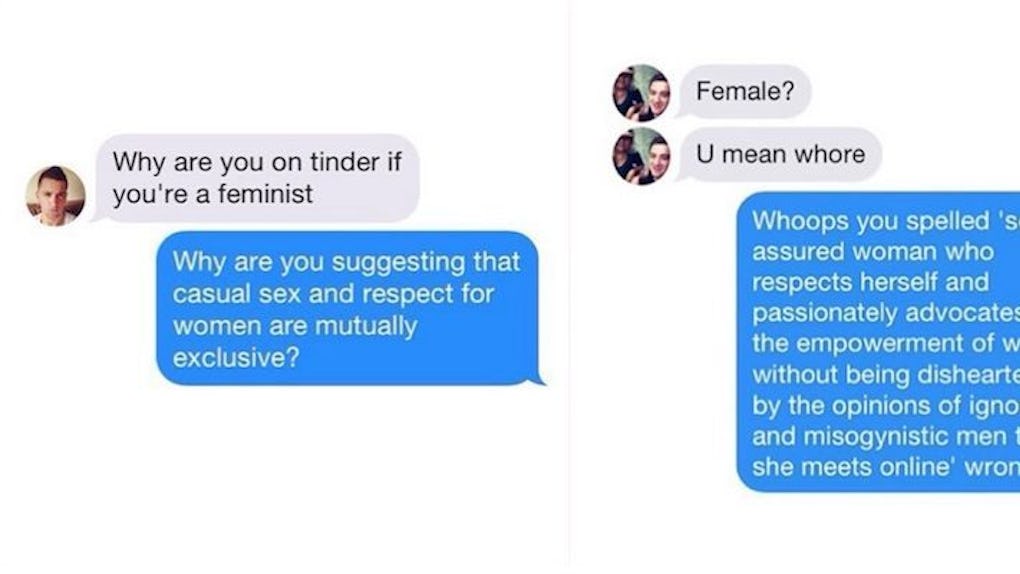 Instagram
Woman With 'Feminist' In Tinder Bio Completely Destroys Sexist Men
Laura Nowak knew when she wrote "feminist" in her Tinder bio she'd receive some flak from sexist male users.
In fact, it was an intentional social experiment of sorts.
What she didn't anticipate was the sheer volume of hate speech she'd receive from ego-wounded men on a daily basis.
To educate men — and women — about the social inequalities plaguing the modern, independent woman, Nowak created an Instagram account documenting the messages she receives on Tinder.
The account, feminist_tinder, is simultaneously troubling and wildly entertaining. Though the comments are often unfathomably hateful, Nowak's witty, smart responses lend the account a funny and lighthearted tone — a necessary reprieve after all the misogyny.
Since its inception, feminist_tinder racked up 28,000 followers.
Though created several months ago, the clever account recently launched into the spotlight following a profile in Huffington Post.
Nowak hopes the account will help to show others gender inequality is still a serious issue.
She told Huffington Post, "I think it's important to talk about these perspectives on feminism."
Her goal is to "highlight that misogynistic double standards are rampant and active in our culture."
She hopes by revealing the horrible ways in which women are treated…
...they'll be driven to fight for the rights and fair treatment they deserve.
Nowak explains, "As feminists, we hear all the time that we've already 'reached equality.'"
But, she adds, "Publishing these conversations proves that, at least as far as dating goes, we definitely haven't."
The account does not only consist of Tinder conversations: Nowak also shares feminist quotes and jokes to keep the content lighthearted.
Her smart, sarcastic tone provides the perfect antidote to the sexism and the hate.
...and follow to show your support (and — let's be real — to stay entertained).
Citations: What Happened When This Woman Included "Feminist" On Her Tinder Profile (Huffington Post)