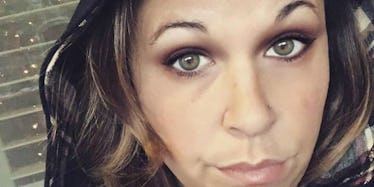 Woman Details Being Fat-Shamed At Lululemon After Losing 80 Lbs In Emotional Post
Facebook
A person who tries to lose weight in order to become healthier should receive an incredible amount of respect.
Unfortunately, sometimes those people experience fat-shaming and others who try to continue holding them down.
Heather Albert lost 80 pounds and was beyond excited to finally fit into Lululemon clothing.
Her weight loss wasn't easy. She suffered with polycystic ovarian syndrome for years, which makes it difficult to lose weight. After the birth of her son in 2011, postpartum depression prevented it even further.
The human resources manager from Las Vegas told People,
Having been an athlete my entire life, it saddened me to think that I wasn't able to do all of the things I wanted to do with and for my son and my family.
With a gastric sleeve, and a year of hard work and yoga, Albert lost the weight. Over the year, she built up enough confidence to go to the Lululemon store in Park City, Utah.
She said,
So much has changed since losing weight. I have more self-esteem, more self-confidence, and most importantly, I feel healthier overall. I decided to channel my inner warrior and brave the retail store in Park City.
At the store, while Albert was the only customer, she overheard the sales associates whispering and giggling. Then, she heard one ask,
Do we even have anything in her size?
She said,
I was humiliated I have been made fun of my entire life for my weight, so any time comments are made regarding my appearance or weight, I shut down. I felt 'less than,' and felt that I was not welcome in the store. Moreover, I felt that I didn't have the right to be shopping there because I'm close to the upper end of their size ranges. I was so embarrassed, I just paid for the two items I had in my hand and left the store as quickly as possible. I just wanted to be out of there.
Albert posted her experience on Facebook and has since received a number of apologies from the company, and the employees will receive re-training, but she probably won't purchase Lululemon products again. She said,
I'd rather my money go to a company that is supportive of people of all sizes – such as Athleta, whose quality is on par with Lululemon but they also offer plus sizes so that their clothing is available to women of all shapes and sizes.
Citations: Woman Who Lost 80 Lbs. Body Shamed by Lululemon Employees: 'I Felt Less Than' (People)