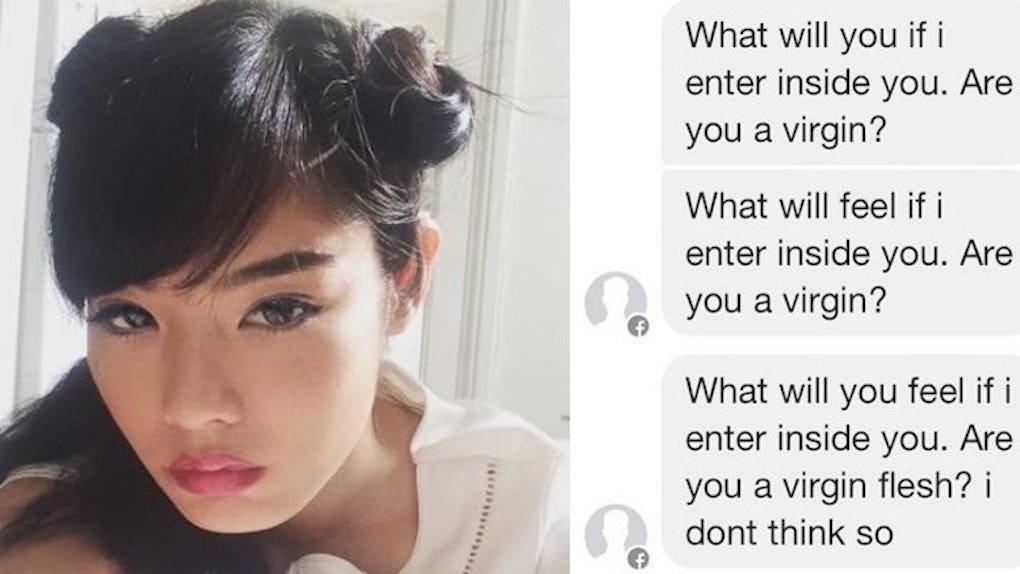 Instagram
Woman Shares All The Creepy Messages She Got Online Over Past 10 Years
Through her Instagram account, Mia Matsumiya is getting revenge on all those who sexually harassed her online over the past 10 years.
It's no secret sexual harassment is a major issue on the Internet.
Every day, countless women and men are subjected to messages, pictures and comments that would not be even remotely all right to share in person, but somehow are deemed "OK" by the senders to post publicly because it's online.
Mia Matsumiya has been targeted by this harassment for the past 10 years.
She told Huffington Post,
Being 4'9″, Asian-American, and a musical performer has sort of been a nightmare combination when it comes to harassment – it seems to attract an insane amount of unacceptable, predatory behavior.
She continued,
It had gotten to the point where someone would send the most scathing, racist, violent thing to me -- like rape or death threats -- and I would barely have a reaction.
The 35-year-old violinist is fighting back by vowing to post "1,000+ messages from creeps, weirdos & fetishists" on her Instagram account.
Over the last 10 years, I've archived over 1000 messages from stalkers, pervs & crazies, & decided to post them all: http://t.co/51YUki4Zgu — Mia Matsumiya (@mia_matsumiya) September 24, 2015
Mia has uploaded 72 posts to the appropriately named account perv_magnet.
Wasn't this one of the questions on that "36 questions to make you fall in love" test? Submitted by Shannon. A photo posted by Mia Matsumiya (@perv_magnet) on Oct 17, 2015 at 4:14pm PDT
  I can't tell if this is more or less creepy if you read it out loud in an Elmer Fudd voice. He posted it on my Facebook page publicly though, so I'm sure he doesn't mind me posting it here too.   A photo posted by Mia Matsumiya (@perv_magnet) on Oct 16, 2015 at 5:59pm PDT
Unusual fetish? Fine. Enforcing it onto other people without consent? Not so okay. 😢 Submitted by Tina. A photo posted by Mia Matsumiya (@perv_magnet) on Oct 13, 2015 at 10:58am PDT
 Perv_magnet has become a major hit, attracting over 13.8 thousand followers.
Mia is asking others to share their personal abusive messages so she can post them.
In 2008, I played a show in Germany with my band. A creepy guy with crazy eyes kept following me around asking me for my "autograph" and a kiss. I tried to hide, but security wasn't good and he ended up cornering me, demanding I sign his forearm. I did it out of fear, and then the next day, he sent me this picture of him pretending to cut up my signature on his arm with a pair of scissors. 😱 #scary #pervmagnet #weirdo #stalker #crazy A photo posted by Mia Matsumiya (@perv_magnet) on Sep 23, 2015 at 9:17am PDT
Hopefully, next time one of these garbage humans will think twice before deciding to send an unsolicited message to someone.