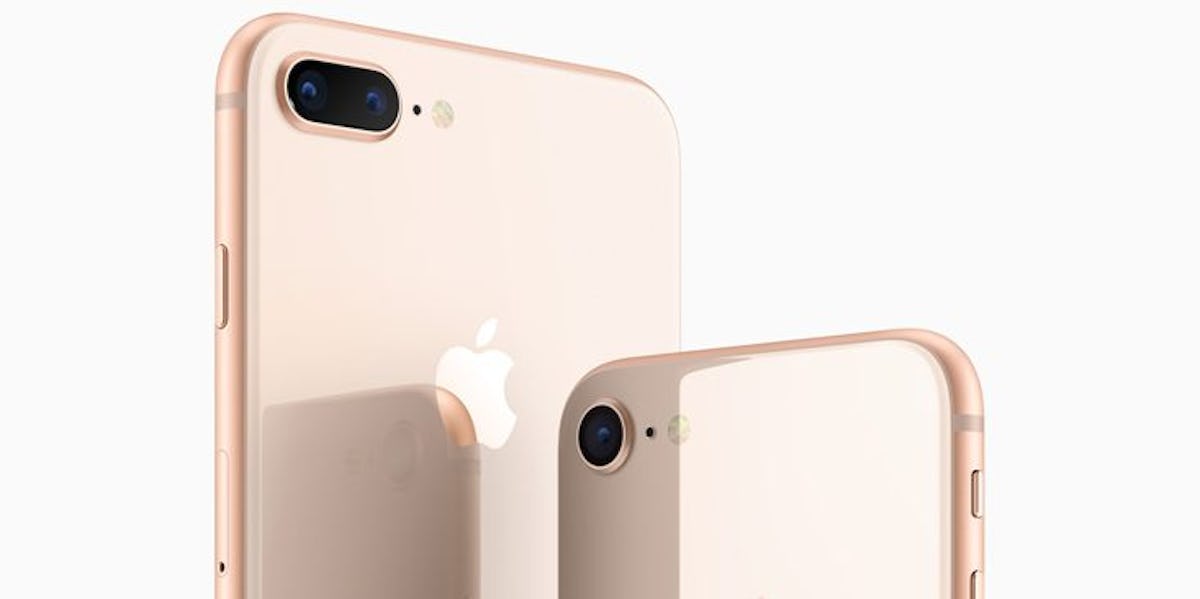 iPhone 8 Camera Will Be Much Better Than The One You're Using Now, So Don't Worry
Apple
Though Apple threw us all for a loop when they went ahead and released three new phones during their Sept. 12 Keynote presentation in Cupertino, California, there's something iPhone 8 and iPhone 8 Plus skeptics should know: The camera will be much better than the one you're currently using. While only one phone has the futuristic "X" in its name, much of the camera technology is similar throughout all three devices.
In a press release announcing the iPhone 8's exiting features, Apple went so far as to call the iPhone "the world's most popular camera." Whether or not that's completely true, you can't deny that a good chunk of the population walks around with some kind of smartphone camera in their pocket — be it Apple branded or not.
These cameras are so powerful that they can act in place of a traditional DSLR for seriously professional looking shots. As such, 2017 Instagram is beaming with impressive imagery, making it easy to forget that its newborn 2010 counterpart was blurry and covered in moody vignettes. To put into a #foodporn perspective, one look at your favorite bloggers' enviable weekend brunch photos is drool-worthy proof that smartphone food photography has insane potential.
Like anything, mastering a built-in camera takes practice regardless of your subject. And given the powerful features coming to the iPhone 8, practice time is going to feel like playtime -- because it is better than your iPhone 7 (or, if you're like me, it's definitely better than your iPhone 6).
Here, let's zoom in on what's new on the improved 12-megapixel camera.
The Sensor
Designed in-house by Apple, the iPhone 8's sensor is larger and faster than previous models. That means faster focusing, more color depth, and higher quality HDR photos.
The True Tone Technology
According to Apple, the LED True Tone flash adjusts the white balance of your photos automatically, resulting in crystal clear photos no matter where you are.
The Wide Angle Viewing
Your shots won't be limited space-wise with the iPhone 8. Its dual-domain pixels ensure you're able to see as much of your surroundings into the frame.
The 4K Video
Like the next-gen Apple TV, the iPhone 8 will have 4K capabilities in video mode. If you're shooting in slow motion, however, you'll still be limited to 1080p.
The Portrait Mode With Portrait Lighting For iPhone 8 Plus
First introduced with the iPhone 7, Portrait Mode got a mini makeover for the iPhone 8 Plus. The stunning feature now lets users achieve ultra focused subjects and blurry backgrounds with ease, all thanks to a studio-level lighting experience called Portrait Lighting. The best part? You can use it in real time, as you might've seen Apple demonstrate during their highly-anticipated Keynote presentation on Sept. 12.
It's all so fresh, and so exciting — despite the fact that the iPhone 8 was sort of outshone by the iPhone X.
Giving an official rundown on the iPhone 8's advancements, Apple's senior vice president of worldwide marketing, Philip Schiller, said in a statement,
iPhone 8 and iPhone 8 Plus are a new generation of iPhone that improve on everything we love about iPhone. iPhone 8 and iPhone 8 Plus have new glass and aluminum designs, new Retina HD displays and A11 Bionic — the smartest chip ever in a smartphone. Packed with more advanced cameras with Portrait mode and Portrait Lighting, and the highest quality video capture in a smartphone, iPhone 8 and iPhone 8 Plus enable the freedom of wireless charging, all with AR optimization like no phone ever before.
Honestly, the iPhone 8 perfectly tech-forward enough if you're looking to upgrade your device and don't really care about it being able to scan your face. It still works with Apple's wireless charging innovations and, with a more reasonable $699 price tag, is a solid choice.