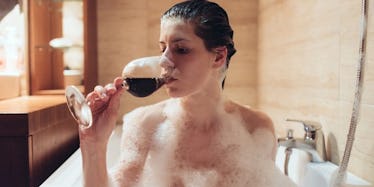 Genius Invention Holds Your Wine Glass In The Tub So You Can Take A Boozy Bath
Katarina Simovic
Imagine this: You're lounging in your bathtub, surrounded by sudsy bubbles, maybe channeling Julia Roberts' Pretty Woman character and belting out some tunes — but wait. You're thirsty. Where's your glass of wine? Outside the tub? Nobody likes exposing their body to the cool air mid-warm bath, so leaning over to grab your glass is less than ideal. Thankfully, a new suction cupholder made for more than your upside-down conditioner bottle exists. SipCaddy holds your wine glass in the bathtub. Translation: Drinking wine while bathing just got way easier.
How It Works
The unique patented design is the only one of its wine-holding kind, according to its product description on Amazon. In addition to long-stem wine glasses, the SipCaddy holds other cups, too. "Cans, plastic bottles, solo cups, wine glasses, some coffee mugs — whatever, whenever, wherever you desire," the brand says. They had me at vino, to be be honest.
Whether you "rosé all day" or prefer a full-bodied Cab', with a SipCaddy in your bathroom, your vino of choice will stay put as you unwind with all the bubbles. It's made from durable-yet-recyclable ABS plastic and can go in the dishwasher.
According to a blurb on the SipCaddy website, the product's genius creators used a 3-D printer to test out different designs before settling on the final product. It reads,
SipCaddy was designed and developed by a small team of drinking enthusiasts, architects, and designers, led by two brothers. The designs were extensively prototyped using 3D printing, which allowed us to test and fine tune SipCaddy to hold the widest range of drinks possible, with the most efficient use of material and a clean look.
How Much Wine Though?
If you're skeptical about whether or not the SipCaddy will actually be able to hold your large pours, you'll be pleased to know that it can hold up to seven pounds — yes, even suctioned to your tub wall. But you do have to install it properly, the brand notes on its website's Frequently Asked Questions page. Here's what they suggest to ensure your SipCaddy is ready for optimal drink-cradling:
We have found that giving it a little tiny lick or drop of moisture helps maintain the suction even better. In bathroom environments, condensation and moisture on the surfaces may eventually weaken the suction. It is recommended to reapply the suction cup before use, and always test the SipCaddy before putting in your drink. We do not recommend using glass vessels, as accidents can sometimes happen. Do not apply after there is condensation, make sure the surface is dry first.
Even though it can hold glass, I'd heed SipCaddy's advice and avoid using actual glassware in the tub. (Dealing with broken glass while naked sounds... awful.) Instead, opt for something plastic or acrylic that looks the part. Target sells a set of eight for $23.99 and Dollar Tree sells plastic ones for, you can probably guess, $1.
Beyond the clear option pictured above, the SipCaddy comes in five other colors (black, blue, pink, purple, and red), all retailing for $13.95. It's available on SipCaddy.com and Amazon Prime.
Naturally, people are obsessed. "Who ever invented this product is a genius!!! I love to soak in my tub with a glass of wine and bubbles!" one Amazon reviewer wrote. "Use this for exactly what is pictured. It works perfect and its nice to have a safe place to set my glass of wine while relaxing in the tub. The hold with the suction cup is great and I haven't lost a glass of wine yet," another happy customer penned.
I'm convinced and might've already added one to my Amazon cart. See you soon, boozy baths.