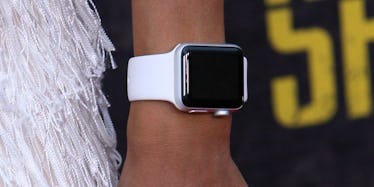 Everyone Wants To Know The Catchy Song From The Apple Watch Series 3 Commercial
David Livingston/ Getty Images
Apple announced the new Apple Watch during its Sept. 12, 2017 keynote, and beyond the amazing new features (it comes with cellular is included now, BTW!), Twitter couldn't help but notice the dope song played during the Apple Watch Series 3 commercial. People on the social media platform were quick to guess that may have been Labrinth singing the catchy tune, but is it new? Elite Daily reached out to Apple to get the name and confirm the artist on the song.
UPDATE: The song is "Misbehaving" by Labrinth.
EARLIER: I tried asking Siri, "Siri, what song is this?" as the commercial played in the background. After listening for a few seconds, she told me, "Hmm, I don't recognize that song." One Twitter user reported a similar response from the popular song-finding app Shazam. While we wait for official confirmation from Labrinth and/or Apple, let's take a closer look at the commercial itself.
The Apple Watch commercial was presented during Apple's big annual announcement event out of Cupertino, California. During the event, the company announced the forthcoming releases of the iPhone 8, iPhone 8 Plus, and iPhone X. The company also announced updates to its Apple Watch, which they showcased in the new ad. The new version of the gadget is the Apple Watch Series 3.
The Apple Watch Series 3 commercial shows a young man skateboarding around, doing tricks and flips... all while staying connected with an Apple Watch, naturally. As he's doing all these tricks, some cool song is playing in the background. Watch the commercial for yourself here:
The commercial ends with the awesome reveal that the new Apple Watch will let you have "40 million songs on your wrist." I mean, even the biggest music snob you know probably won't be able to touch that new limit.
And it's more than just the music, as always. The Apple Watch Series 3 has built-in cellular capabilities, so you'll be able to stay connected no matter where you end up. Apple says in its press release,
Whether users are out for a run, at the pool or just trying to be more active throughout their day, Apple Watch Series 3 with cellular allows them to stay connected, make calls, receive texts and more, even without iPhone nearby.
The new Apple Watch also has intelligent coaching features, water resistance, and a new new barometric altimeter so you can see how high you get with it.
As for those 40 million songs? That service is being made possible thanks to a combination of the cellular capabilities and watchOS 4, the newest operating system.
But more than the product itself, people watching Apple's conference wanted to know where they could get that fire song playing in the background.
So far, it's not being recognized by song-identifying products, which is a total bummer.
Meanwhile, a quick Google of some of the lyrics isn't much help in figuring out what the song is -- which likely means that it's a new one.
Some on Twitter are guessing that it's a new song sung by Labrinth, a British artist, although that has not been confirmed by anyone.
Some eagle-eyed viewers noticed the music that got passed over in the commercial, which included Tyler, The Creator.
That skip made some Tyler fans not-so-keen on the Apple Watch.
Meanwhile, Wale's "My Love" got some love of its own during the Apple presentation, where it was shown being played on a picture of the Apple Watch.
So at this point in time, we're not entirely sure what that bop of a song is in the Apple Watch Series 3 commercial, but if we find out we promise to let you know as soon as possible. At least for now we've got Tyler, The Creator and Wale to keep us busy between repeat plays of the ad to hear the song. Once we have it identified, I guess you can add it to your Apple Watch a couple million times. Sweet.