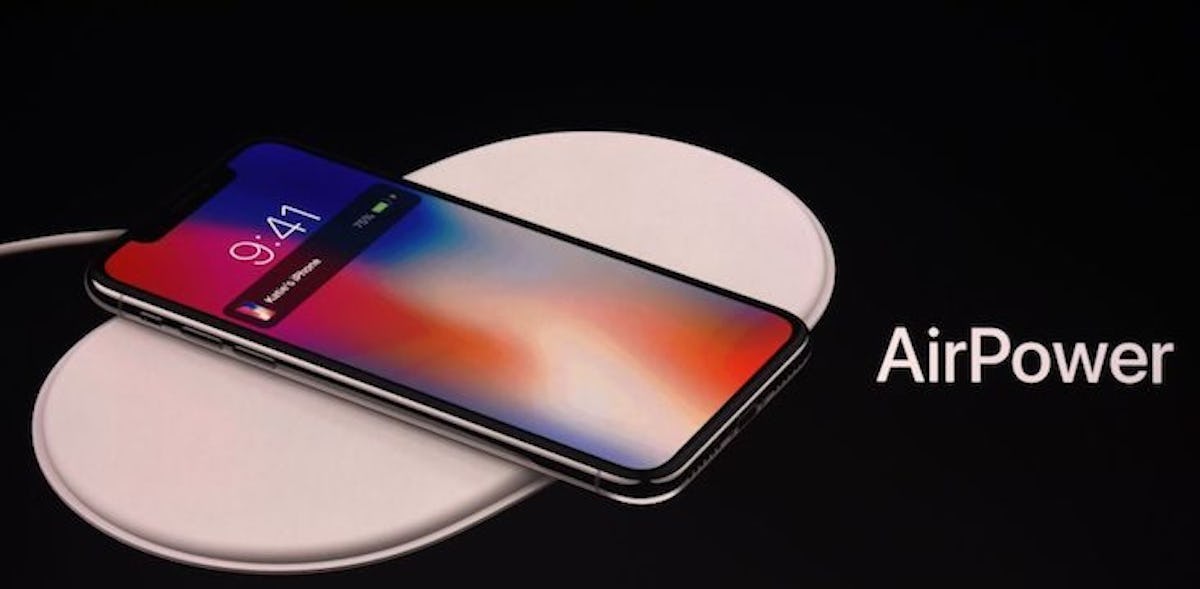 There's More Than One Way To Charge The New iPhone 8
JOSH EDELSON / Contributor/ Getty Images
It's no surprise that the upcoming release of the iPhone X was the big headliner at Apple's keynote that took place in Cupertino, California on Sept. 12. The tech giant also announced how much it would set you back to buy their latest version of the iPhone, and if you're prone to sticker shock, you might want to take a seat because the iPhone X starts at a cool $999. Don't worry, though, because Apple also announced the release of the iPhone 8 and iPhone 8 Plus, and the best part is that one of the coolest features of the iPhone X is also on the iPhone 8. That's right, get ready to upgrade the way you power up, because the iPhone 8 uses a wireless charger, as well as the classic lightning cord.
If you think that buying the iPhone 8 is like settling for second place, you need to take another look at all of the features it has to offer. According to The Verge, the updates from the iPhone 7 to the iPhone 8 are pretty significant. Oh and, it's more affordable than the iPhone X, starting at $699 and $799 for the iPhone 8 and iPhone 8 Plus, respectively.
One of the coolest upgrades that you'll find when you buy your iPhone 8 is that it has a glass back. Not only does it look super sleek, but it's there to allow for wireless charging, so you can stop adding a new lightning cord to your Amazon cart every few months when your current one is frayed to pieces.
According to the Verge, the wireless charging capability is supported by Qi Technology, and Apple announced that they are working on a charging mat called the AirPad that will be released in 2018. What's even cooler about the upcoming AirPad is that you will be able charge multiple devices on it at one time. So, if your AirPods, iPhone 8, and Apple Watch batteries are all ticking down, you can charge them all in one place instead of rummaging for three different cords.
If you're worried that you won't be able to charge wirelessly until 2018, never fear, because Apple stated that the iPhone 8 will charge wirelessly with all Qi-certified products (phew!).
The wireless charging that you'll be able to use with your new iPhone 8 would not have been possible on the old iPhones because of their aluminum backing, but if you want to go old school and cord it up, you can. The lightning connector is still there at the bottom of your phone for when you're feeling a little nostalgic for simpler smartphone days.
After you've fully entered the future by charging your new iPhone 8 sans cord, you'll be all powered up to enjoy the other awesome features. The minimum 64 GB capacity of the iPhone 8 is a welcome update — more room for selfies! If you're really into the photo features, then you'll be pumped to hear about an upgrade to the Portrait mode feature.
You'll have to shell out for the iPhone 8 Plus to take advantage of it, but it will be totally worth it because, according to Apple's website, it will have Portrait Lighting that you can use when you're in Portrait mode on the camera and video. When you use it, the lighting will automatically adjust to give you the best picture quality possible. It's a beta mode feature, but it's basically like a real-life version of that Snapchat "pretty" lens (you know the one), and I am here for that.
If your best snaps happen while you're jamming out to your favorite Taylor tunes, then you can use the AirPods that will come with your new iPhone 8 -- either wirelessly or with the lightening headphone jack adapter.
Now that you know what upgrades you'll get with the iPhone 8, all you have to do is pick a color: Gold, Silver, or Space Gray.
Check out the entire Gen Why series and other videos on Facebook and the Bustle app across Apple TV, Roku, and Amazon Fire TV.