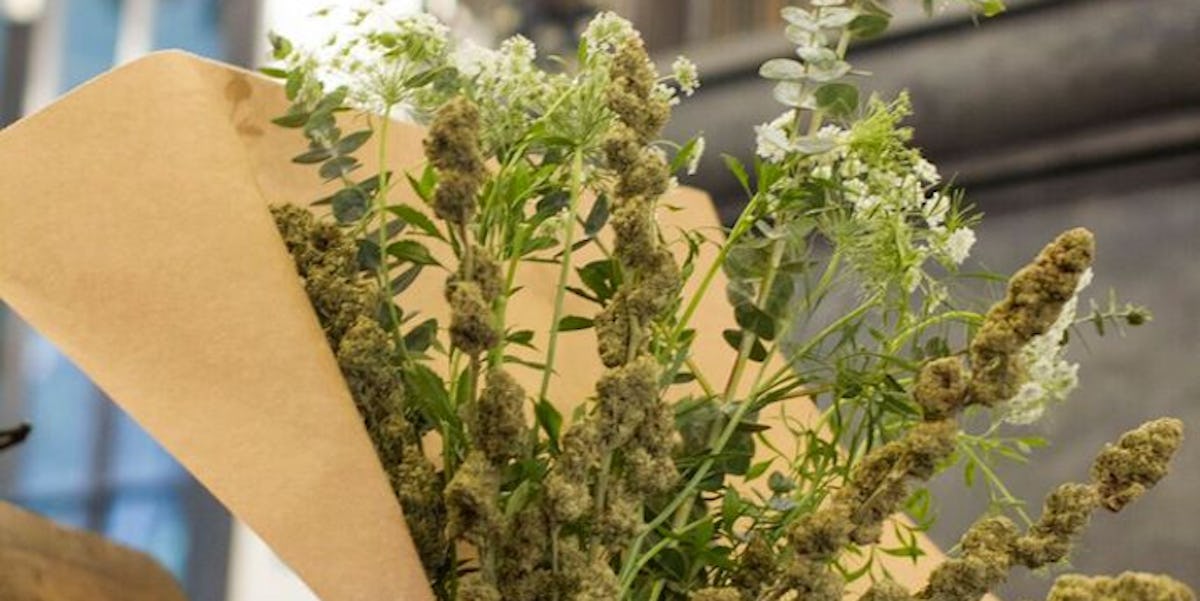 This Weed Bouquet Is The Perfect Way To Set The Bar High On Valentine's Day
Twitter
How do you plan on making this coming Valentine's Day one to remember?
If you haven't even started to think about how you're going to wow the special woman or man in your life on February 14, don't worry. There's still plenty of time for you to get your plans together.
And by "plans," I don't mean a lousy order of flowers you found a discount coupon for online. Sure, that typically comes with a free stuffed animal and a couple of '90s-style balloons, but that just won't cut it anymore. It's 2017.
I would start off by perhaps considering this beautiful bouquet crafted out of the most potent marijuana strains on earth if you're really looking to make an impact on the day of love.
According to Complex, the California-based company Lowell Herb Co. is offering a "nicely bundled ounce" of weed in the form of a weed bouquet for $400.
Yeah, that instantly makes your $20 roses look pathetic AF.
If you're a weed snob and you're skeptical about the kind of marijuana you'd be getting, Lowell Herb Co. ensures their customers they grow their "flowers with only organic fertilizer," "never use synthetic pesticides" and use all-natural materials during the intricate farming process."
Yup, it sounds like it is made with TONS of aromatic love.
That alone makes it totally acceptable to trade the roses and chocolate for Mary Jane this Valentine's Day!
Just don't forget to bring a lighter...
As of right now, the limited quantity bouquets (500) are only being delivered in the Los Angeles area for legal purposes. If you don't live there, but you still want to "order" your lover a weed bouquet, I'd suggest taking the DIY route.
How fucking hard could it possibly be to grab an ounce of dank weed, strategically stick it to old vines and present it to the lucky person in your life who deserves such a masterpiece?
You can thank me later, stoners.
Citations: This Beautiful Weed Bouquet Is the Perfect Valentine's Day Gift for Toking Romantics (Complex)