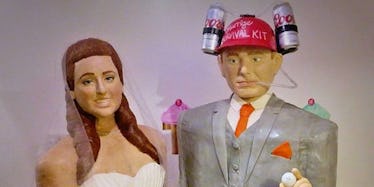 Bride's Wedding Cakes Look Like Life-Size Replicas Of Her And The Groom (Photos)
Oh, cute. This is super cute, guys.
*Holds back a boatload of vomit.*
Nick and Lara Mason got married recently, and rather than have a traditional, boring, stupid, delicious wedding cake, they opted for something a little more unique and modern*.
*Terrifying.
These cakes are terrifying. Nick and Lara are terrifying in cake form, and none of us will ever sleep ever again.
It's FAR from perfect, but with a wedding to plan, a job to go to, interviews and so much more craziness... getting this... Posted by Tasty Cakes on Monday, November 16, 2015
Lara -- who baked the approximately 309-pound wedding cakes -- has been making creations like this for the past four years and even took home the gold medal at Cake International, the Super Bowl of cakes (or something like that).
Previously, Lara sculpted pieces such as Prince George, Jennifer Lawrence, a half-sized Land Rover and Captain Jack Sparrow.
Posted by Tasty Cakes on Sunday, November 15, 2015
 A "Harry Potter"-themed cake she recently made took 10 hours to finish just the sugar work alone.
Happy wedding day to us!!!Bride and groom lifesize cakes... I am exhausted!!3 days was NOT enough time haha! Posted by Tasty Cakes on Saturday, November 14, 2015
Great. Thanks for ruining cakes for me, Lara.
Citations: Wedding day bake is icing on the cake (Express and Star)