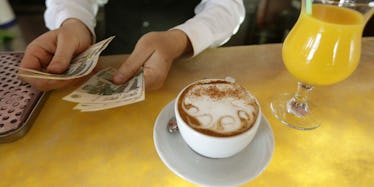 This Customer Sent The Best Apology After Accidentally Stiffing A Waitress
Vasily Fedosenko/Reuters
Tipping should be called mandatory-ing as far as I'm concerned.
Tipping is as much a part of the dining experience as ordering the food and hoping the waitress doesn't hear your grandmother make a borderline racist comment. It's a mandatory part of the check you need to pay.
Waiters, waitresses, bartenders, bar-backs and valets all get paid sh*t money, which means it's up to the customers to right the wrongs of whoever owns the establishments.
One such customer went above and beyond the call of duty when it came to doling out gratuity to a server in the sweetest way possible, according to a post on Reddit by dior_show.
The following letter was sent to a server who was accidentally stiffed on tips by a customer.
D'awwwww! See! People aren't THE WORST all the time!
The redditor told Mashable,
My friend said she sees so many horror stories in the service industry that she just couldn't believe this was real when she got it. She thought it was such a kind gesture. She is a sweetheart, and a great waitress. I personally wanted to share the story because I feel that good deeds often go unnoticed. It's great to see people going out of their way to be kind to one another.
OK, this is maybe not exactly faith-in-humanity restoring, BUT it's still pretty awesome!
Citations: Restaurant customer accidentally stiffs on tip, mails it to server a week later (Mashable)