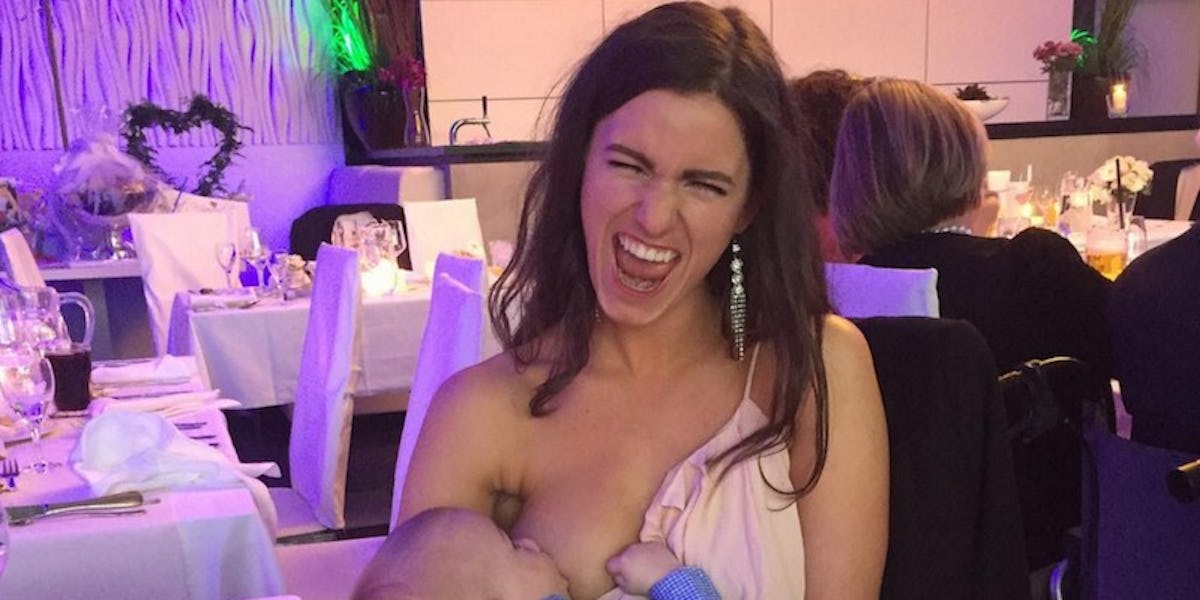 Mom Challenges Perception Of Breastfeeding In Public With Powerful Photo
Instagram
Are mom goals a thing? Because Naomi Jael is straight-up mom goals.
Public breastfeeding will forever be one of those weird things the world is split on for some reason. It's like the conservative right thinks women just DECIDED feeding the next generation of people is an act of defiance against Christian ideals, and not that it's more of a necessity to sustain life than anything else.
One 21-year-old German mother's Instagram post of her breastfeeding at a wedding has gone viral, working as a sort of social media fight song against people who think the act of feeding one's child should be done in private no matter the circumstance.
She captioned the post,
When you are at a wedding, wear fancy dresses and high heels. and your baby gets hungry, well... You give no sh*ts and feed the kid *EDIT: whoever gets mad about this I also fed my son at the church ceremonie IN the church. Here in Germany people don't get mad about it. It is NORMAL . Nothing rude or bad about it. This is why I have breasts! Cause God gave me boobs for feeding my babies.
Recognizing the viral sensation, Naomi posted a second picture later on of her husband and an army buddy joking about the success of the Instagram picture.
In the post, she explained,
Most people know my husband is deployed right now! BUT This is him and his buddy @johnsteckmanshowing support I was cracking up. People. Breastfeeding is normal. Blanket, no blanket because some kids will rip it of. In a corner or on a table. Get over it !!!! My Husband Supports me and thats all that matters.
Everyone go be more like Naomi, NOW!
Citations: 'When you wear fancy dress and high heels and your baby gets hungry': Woman wakes up to find a picture she shared of herself breastfeeding at a wedding has been shared around the world (Daily Mail)