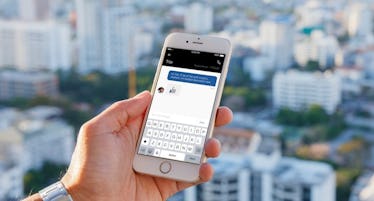 Uber's New Chat Screen Lets You Message Your Driver In App, So No More Phone Tag
Uber is pretty awesome, and we can't deny the fact they've revolutionized the way we commute -- but one of the app's biggest downfalls is the way passengers communicate with their drivers. It seems simple enough: You order your Uber, and the driver calls you (or you call them) to make sure you're both in the correct location. The problem starts when your Ubs' can't get ahold of you and you both start playing phone tag.
To remedy this issue, the ride-sharing app has created a new in-app messaging feature, and it's genius. Here's how to use the in-app chat in Uber. To use the new feature, you'll have to make sure your app is up-to-date — which you can check by visiting your app store and checking for updates.
After your order your Uber, you tap on "contact" and then you tap on "chat." Then, you send the driver your desired message. Once it's received, the feature will read it out loud to your driver so they can focus on driving. Geez, the future really is now.
Your driver will acknowledge that they've received the message by giving it a thumbs up. Pretty easy right?
The best part about Uber's in-app messaging is that it'll be rolling out globally to all users over the next few weeks. This means you can use in-app messaging anywhere in the world -- pretty cool, right? Just make sure you watch out for any new updates, because you definitely don't want to miss this one.
Once you're united with your Uber, make sure not leave anything behind, because if you do, you will be charged to retrieve it. On the brighter side, after you've paid your Uber for a ride and for a second ride to bring back your missing items, you can order a free Uber Ice Cream Truck every Friday until Sept. 22.  This ice cream truck will hook you up with free soft serve, so take advantage of the opportunity while you can.