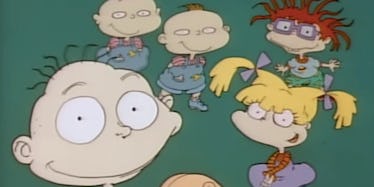 Twitter Is Getting Super Nostalgic With Its #90sWereTheBestBecause Hashtag
YouTube
Being born in the early '90s, I got to experience playing with awesome toys, watching iconic cartoons, and listening to great music.
If you love the '90s as much as I do and are wondering how you can commemorate your favorite decade, I have some ideas.
You can listen to the same music you did at that point in time, or you can dust off some of your favorite outfits that remind you of the glory days.
Or, you can do what thousands of people are doing on Twitter and reminisce the '90s by using the trending #90sWereTheBestBecause hashtag to tweet why you loved the decade so much.
Some people love the '90s for the music.
Gas was so much cheaper back then.
Yup, you could literally fill your tank with $5. Nowadays, five bucks barely buys you a snack at the gas station.
Two words: Spice. Girls.
Adulting wasn't a thing for most of us in the '90s.
My biggest worries were which cereal I'd eat while watching my Saturday morning cartoons and if I'd wake up early enough to catch them.
And Titanic's Jack and Rose made us never want to let go.
Ugh, they were goals.
In the '90s, Darkwing Duck protected our streets.
Online drama didn't plague the internet.
That didn't come until the 2000s.
The TV shows were iconic.
Remember Rocket Power?
Bringing your pet to school was never a problem.
TBH, the '90s were so great because we still can't stop thinking about them.
Let us remember, the '90s also gave us Britney Spears, Christina Aguilera, *NSYNC, The Backstreet Boys, and TRL.
I wonder if in 20 years the early 2000s will be as memorable and the '90s. I also wonder if a "hashtag" on futuristic Twitter will trend asking users to share why they loved Y2K.
I guess we'll find out soon... stay tuned!