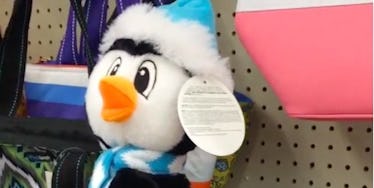 This Twerking Toy Penguin May Actually Give You Nightmares (Video)
Stumped over what to get the person who has it all this holiday season?
How about this $18 animated twerking penguin.
The dancing stuffed penguin, available at discount chain Big Lots!, is like nothing you've ever seen before.
Stuff a pair of AA batteries inside its butt and the perky penguin, outfitted in a teal Santa hat and matching scarf, will shake its rump to its own jarring, pre-programmed playlist.
It's the perfect weapon for scaring away unwelcome house guests and those pesky, faux-cheerful carolers who always seem to show up on your front porch at the worst times.
The Animated Twerking Penguin, as it's so cleverly named, is described by the manufacturers as "the gift that keeps on giving" and is recommended for adult use only (probably because it would scare the children right back to preschool).
Unfortunately, the ass-shaking nightmare bird is only available in-store, so you'll have to head to your nearest Big Lots! to score one in time for the holidays.
Consider your Christmakwaanzikah shopping officially completed.
Happy...
@Luke5SOS Your twerking penguin pic.twitter.com/PBUTmybuuE — Broken Home (@All_Hail_Hemmo) November 10, 2015
Freaking...
"Christmas is my favorite time of year" sings the twerking penguin as I try not to be amused pic.twitter.com/Gqlw2RGIdH — joll(yvia) (@olyviafaith) November 2, 2015
Holidays.
It's a twerking penguin !! #WeLoveYouLuke @Luke5SOS @5SOS pic.twitter.com/aZXAYEzWy7 — Michael Clifford (@AnneClifford95) September 22, 2015
Citations: This twerking Christmas penguin is freaking everyone out (Metro)