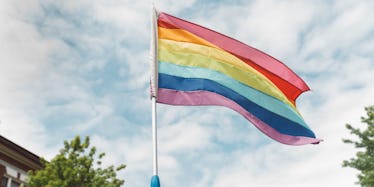 49 Tweets Honoring The 49 Pulse Nightclub Shooting Victims One Year Later
Today, we mourn the one-year anniversary of one of the most heartbreaking tragedies in our nation's history.
One year ago today, innocent lives were taken in a mass shooting at Pulse Nightclub in Orlando during a celebration of love and tolerance.
Killing 49 people and leaving over 50 injured, the shooting at the gay nightclub, which occurred during Pride Month, was one of the largest mass shootings in U.S. history.
After their lives were so senselessly taken, it is our duty to remember each and every victim for the incredible human beings they were.
In a series of 49 tweets posted today, Twitter user Khary Penebaker (@kharyp) remembers each and every single one of the wonderful human beings lost in the senseless shooting.
Read along as we remember them not just as victims of the Pulse Nightclub shooting but as real people, members of people's families, loves of people's lives who were taken from our Earth way too soon.
Stanley Almodovar III, 23
Amanda Alvear, 25
Oscar Aracena, 26
Rodolfo Ayala-Ayala, 33
Antonio Davon Brown, 29
Darryl Roman Burt II, 29
Jonathan Camuy, 24
Angel Luis Candelario-Padro
Omar Capo, 20
Simon Carrillo, 31
Daniel Conde, 39
Cory James Connell, 21
Tevin Eugene Crosby, 25
Anthony Luis Laureano Disla, 25
Deonka Deidra Drayton, 32
Leroy Valentin Fernandez, 25
Mercedez Marisol Flores, 26
Peter O. Gonzalez-Cruz, 22
Juan Ramon Guerrero, 22
Paul Terrell Henry, 41
Frankie Hernandez, 27
Miguel Angel Honorato, 30
Jimmy De Jesús, 50
Javier Jorge-Reyes, 40
Jason Benjamin Josaphat, 19
Eddie Jamoldroy Justice, 30
Christopher "Drew" Leinonen, 32
Alejandro Barrios Martinez, 21
Juan Chavez Martinez, 25
Brenda Lee Marquez McCool, 49
Gilberto Ramon Silva Menendez, 25
Kimberly "KJ" Morris, 37
Akyra Murray, 18
Geraldo Ortiz-Jimenez, 25
Joel Rayon Paniagua, 31
Jean Carlos Mendez Perez, 35
Enrique L. Rios, 25
Eric Ivan Ortiz Rivera, 36
Jean Carlos Nieves Rodriguez, 27
Xavier Emmanuel Serrano, 35
Christopher Sanfeliz, 24
Yilmary Rodriguez Solivan, 24
Edward Sotomayor Jr., 34
Shane Evan Tomlinson, 33
Martin Benitez Torres, 33
Juan Rivera Velazquez, 37
Luis Vielma, 22
Luis Daniel Wilson-Leon, 37
Jerald "Jerry" Wright, 31
What happened that night was senseless and tragic, and it is our duty to not only remember these individuals and the beautiful lives they lived, but to also spread love across the world to combat this sort of hate.