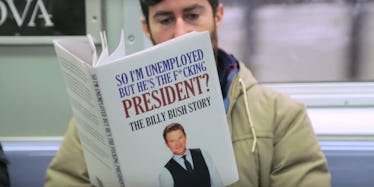 Guy Reads Fake Trump Books On Subway To Prank Riders And Gets Perfect Reactions
YouTube
If you're ever looking to get a good reaction out of someone, just go on an adventure through NYC's legendary subway system.
Seriously, the honest opinions you'll gather solely by analyzing the facial expressions of total strangers aboard the subway are priceless.
That much was made quite obvious when a comedian named Scott Rogowsky decided to create hilarious fake book covers about President-elect Donald Trump and the recent presidential election.
Rogowsky took the fake books where he knew he'd get the best possible reactions: the subway in New York City.
Using vibrant, eye-catching fonts and bizarrely worded book titles, the New York-based comedian was able to garner epic reactions from expressive New Yorkers during their commutes -- all at the expense of Trump!
Comedian Scott Rogowsky took to the subway in NYC to prank riders with hilarious fake book covers about Trump.
Of course, it wouldn't have been a real subway ride if he didn't have to swipe his MetroCard at the turnstile more than once...
Hillary knows all about that.
Then, he stood on the subway platform in Brooklyn and waited for the next train. Who's ready to "Trump That Book?!"
Finally, Rogowsky hopped on a train and showed off the first fake book cover, which takes an epic jab at Trump and Chris Christie.
The priceless reactions started almost immediately. It's like magic!
Next up was a fake book "written" by Vice President-elect Mike Pence.
The fake books were so good, people couldn't help but snap photos of them. Success!
Newt Gingrich wasn't safe either. Hmm, I wonder what JK Rowling would think about this one...
I'm sure she'd have one of these three reactions!
My personal favorite fake Trump book out of the bunch would have to be "The Billy Bush Story."
This isn't the first time Scott Rogowsky's taken fake books on the subway.
In a similar social experiment conducted last year, the comedian responsible for the "Running Late Show" went underground to test out book covers that read things like "Ass Eating Made Simple" and "How To Hold A Fart In."
Check out his most recent "fake book" experiment above!