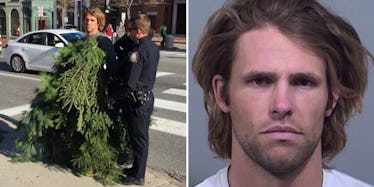 This Man Who Was Jailed For Dressing Like A Tree Is Actually Sexy AF
Twitter
Have you ever wanted to just run away and hide from all of your responsibilities?
I don't know if that was this guy's intention, but I think he took the saying "make like a tree and leave" a little too seriously.
This guy dressed up like a tree in Portland, Maine and got arrested for obstructing a public way. The video of him being arrested has been going viral on Twitter ever since.
People are calling him Tree Man, but the "man behind the branches" is really named Asher Woodworth (C'mon... ASHer WOODworth? Holy shit, this is comedy gold, people!)
They tried to give him a warning, but apparently Woodworth wouldn't answer the police's questions and obviously didn't listen to their instructions.
If you don't think this is weird already, the reason why he chose to do this is even weirder.
An editor for the Portland local news station TVTEDDY wrote on Twitter,
Police say 'tree guy' is 30 year old Asher Woodworth? He told police he wanted to see how his act affected 'people's natural choreography.'
This sounds like something Jaden Smith would say, honestly.
But the most interesting part of this all is... HE'S SUPER HOT.
Here's the man behind the branches. Asher Woodworth was released on $60 bail tonight. #WGME pic.twitter.com/4WvIZWF34W — Dan Lampariello (@DanWGME) October 25, 2016
Me: *Calls parents.* Dad, I need $60 ASAP.... Why?! Um... For... reasons.
I took to Twitter to see if any of my other thirsty gals agree, but I guess I'm the only one who is having this serious revelation about Tree Man.
I mean, I hope it's Christmas. And Tree Man can be my present.
Jessie is right -- 2016 has been a hot mess.
Asher Woodworth definitely gets the hot part right. And I'm down to get messy.
Now that we all know he's sexy as hell, that makes him less of a weirdo and more artsy, right? Riiiiiiight. That's what I'm gonna keep telling myself.
BRB, I have the sudden urge to climb a tree.
Citations: Jimmy Nsubuga for Metro.co.ukTuesday 25 Oct 2016 4:56 pm A man decided to dress up as a tree and block a road and no-one quite knows why. Some people thought Asher Woodworth, 30, was taking part in an art project in Portland, Maine. Others claimed he was inspecting traffic patterns. Woodworth himself told police he was curious how his experiment would 'affect people's natural choreography' (whatever that means). MORE: Here's 5 horrifying things your Facebook posts could reveal about your personality But everyone could agree the stunt was really strange (and somewhat hilarious). And most couldn't resist a pun. MORE: Photo series celebrates the weird and wonderful world of sploshing Police eventually arrested Woodworth after he refused to move. They charged him with obstructing a public way. He is currently out on police bail. MORE: This woman has spent over £20,000 to look like Barbie MORE: McDonald's staff turn on 'racist' customer outside restaurant MOREUSA Actress 'forced to check in bag' with airline - only to find passport and cash missing after landing Daughter of murdered police officer is given escort to school by his colleagues SPONSORED 11 bits of kit that will definitely keep you running for longer This is what Trump's first 100 days as president would look like - brace yourselves Driver 'was so drunk he crashed into medical helicopter' McDonald's worker with Down's syndrome celebrates 30 years in the job MORE: Daughter of murdered police officer is given escort to school by his colleaguesMORE: Driver 'was so drunk he crashed into medical helicopter'MORE: Actress 'forced to check in bag' with airline – only to find passport and money missing after landing Comments by Taboola Sponsored Links FROM THE WEB Meet the Sheets New York Can't Stop Talking About Business Insider | Brooklinen Meet the US Navy's new $13 billion aircraft carrier CNET First Pics: See the New Cars of 2017 Kelley Blue Book This Article Will Change the Way You Buy Glasses GlassesUSA.com MUST READ McDonald's worker with Down's syndrome celebrates 30 years in the job 'People stop him on the street and shake his hand.' A spider carrying a mouse is the only reason you need to never visit Australia The spider was spotted in a neighbour's house. Baby born twice after she was taken out for operation before being returned for birth Lynlee Boemer was taken out of the womb 12 weeks before she was born 'properly'. Man confesses to raping and murdering girl, 4, live on TV Police arrested him during the show and took him in for questioning. Five dead after plane crashes at airport in Malta Witnesses said they saw the plane rise before banking to the right and going 'straight into the ground'. Pirate Party on the verge of winning power in Iceland Because politics is weird. Plastic surgeon posted photos of his patients going under the knife on social media In one photo, he squeezes a patient's breast while giving the 'okay 'sign Four dead after water raft 'overturns' at theme park Two children, who were also on the raft, survived. Video shows moment plane crashed killing five people in Malta Laurent Azzopardi's dashcam caught the crash on film. Weird messages from space are 'probably' aliens, astronomers say Scientists believe aliens could be making contact from a small set of stars. Actress 'forced to check in bag' with airline - only to find passport and cash missing after landing She also said she had a terrible flight because she was allergic to the food on offer. Radioactive leak at nuclear reactor in Norway Work is ongoing to stop the leak. Thailand's red light districts are back open for business after king's death Sex workers paid tribute to the monarch by wearing black mini dresses and maid's outfits. There's a helpfully complete list of all the 281 people Trump has insulted on Twitter 'Macy's stores suck and they are bad for USA' - among his tweets Daughter of murdered police officer is given escort to school by his colleagues He had always walked her to school on her first day. Heading footballs significantly reduces memory ability, new study finds It comes amid growing calls for greater research. WHAT'S TRENDING NOWMore trending stories » Read more: http://metro.co.uk/2016/10/25/man-dressed-up-as-tree-and-stood-in-middle-of-road-6214869/#ixzz4O8mvV3YD (Metro UK)