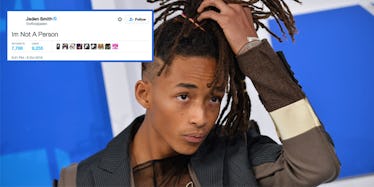 Jaden Smith Admitted To Being 'A Vampire, For Real' And We're All Scared
REX/Shutterstock
Jaden Smith is seriously the voice of our generation... a bizarre, skirt-wearing voice, but a strong voice nonetheless.
A couple of days ago, Jaden tweeted this, and it got us all wondering what the fuck he was talking about.
He explains it all in his interview for French magazine Numéro, in which he's on the cover of for their fall/winter issue for 2016.
In the interview, Jaden told the magazine,
During a period of my life, I was Gothic. I was only wearing black and I was hiding from the sun because I was a vampire.
I don't get it. And neither does the interviewer, and apparently neither does Jaden because when he was asked to explain what he meant, he just said,
I was a vampire, for real I could not expose myself to the sun and I was only wearing black trench coats.
I'm guessing he's not like the Edward Cullen kind of Vampire who just sparkles?
But that was before, and Jaden's a changed man. He added,
Now I'm not a vampire, I'm out of this phase. I open myself up to wear more colorful things, to go out in daylight. I share much more mixed energy.
I really don't know what he's talking about, but for some reason it's making a lot of sense to me. I just want to get on your level, Jaden.
Or not.
Jaden Smith is either the most woke boy on planet Earth, or he's going to end up getting weirder on Twitter a la Amanda Bynes.
I don't know, Jaden, I really don't know. I wonder what the world looks like through his eyes, because it must be so much more fun that way. Would it be like one long acid trip?
I know we all drag on today's celebrity youth for saying weird things, but then we realize we were all wrong and they were all right... like we did with Kylie.
You were right, Kylie. I did realize stuff this year. And I'm a little scared that Jaden's gonna be right about this whole vampire thing because all I do is wear black clothes and trench coats.
Does that mean everyone in New York is a vampire?
Send help.
Citations: Jaden Smith on His Time as a 'Vampire': 'I Could Not Expose Myself to the Sun' (Complex), Jaden Smith Explains That He Used to Be an Actual Vampire (Pigeons and Planes)