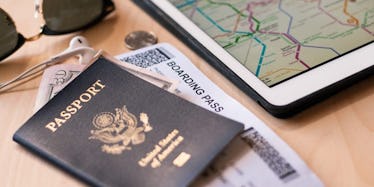 Science Says Traveling Makes You Smarter, So Book Those Tickets Right Now
Jovo Jovanovic
As author Melody Troung's quote goes, "I'm in love with cities I've never been to and people I've never met." So there's definitely something to be said about that incurable case of wanderlust. Exploring new locations is thrilling, and there's nothing more satisfying than crossing a destination off your bucket list. Science has also proved that traveling makes you smarter, so if you weren't convinced that discovering different cultures across the world was worthwhile, now there's even more of an incentive to book that ticket.
Thanks to a study by William W. Maddux, associate professor of organizational behavior at INSEAD, a graduate business school in Fontainebleau, France, research shows a correlation between students' "multicultural engagement" and "integrative complexity," according to Forbes. This means that students who experienced other cultures were able to hold conflicting viewpoints at the same time, whereas those who hadn't weren't able to accept different perspectives quite as easily.
The good news about this discovery? It also led to more opportunities. Maddux's findings further claimed that the students in his program who had traveled and explored different cultures were presented with more job opportunities than the ones who hadn't, according to Forbes. If you're thinking about adding more stamps to your passport, this is definitely a way to get motivated.
Not only does traveling give your brain some fuel, it also adds to your creativity. When Maddux and his colleagues had administered a remote associate test to students, those who were primed with thoughts about living abroad solved 50 percent more problems than those students who were not, claiming those who adapted to foreign locations had "significantly higher" creative enhancement, according to Forbes.
Though summer has come to a close, that doesn't mean that your traveling needs to end. There are perfectly exciting fall travel destinations that are totally worth a look — especially the top three fall vacation spots based on Kayak searches. You're going to want to make a move before popularity soars and ticket prices hit astronomical levels.
Happy traveling!