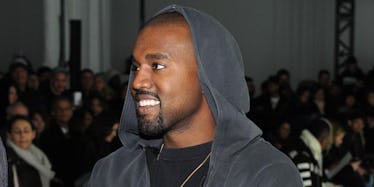 There's Actually A Petition To Rename A Train Station After Kanye West
Getty Images
An English man is petitioning to have the Canterbury West Train Station named after Yeezus himself, Kanye West.
In a petition posted to change.org, Mark Kilner writes,
Kanye West (wealth be upon him) is more than just another celebrity propping up the hit parade; he is the greatest human being of our time, a latter-day Moses whose Coming was prophesised on the front of David Bowie's seminal work Ziggy Stardust and the Spiders from Mars.
Kinder words may never have been spoken about Kanye West, even by Kanye West himself.
The rapper, fashion mogul and husband of Kim Kardashian has found extreme wealth in exploiting his talents, but Kilner feels the best way to pay respects to West is to brand the 19th-century train station in his likeness.
Kilner writes,
Sadly, Kanye (wealth be upon him) has been not always been afforded the respect he deserves. We cannot undo past wrongs such as retroactively giving Taylor Swift's Grammy Award to Beyoncé any more than we can save Jesus from crucifixion (although technically God kind of took care of that), but we can show our appreciation in other ways, and what better start than renaming Canterbury West Station to Kanye West Station?
As of 6 pm EST, the petition has garnered 1,201 signatures since its introduction in March, just 299 short of renaming the Kent, England station "Kanye West Station."
Kilner -- obvious diehard fan of Kanye West, Yeezus, Yeezy, The Louis Vuitton Don, Konman, Ye -- has even bigger plans for the future of Canterbury, turning the English town into a blooming Kanye-Kim Mecca.
He says,
I see this as the first step towards a brighter future when the whole of Canterbury is renamed after Kanye (wealth be upon him); visitors can come and go via Kanye West Station or Kanye East Station (or indeed, Kanye Bus Station), pilgrims can flock to Kanye Cathedral to pay homage to the great man, and the sick and the injured can be healed at Kent and Kanye Hospital (I'd love to see the "Kent" in that last one changed to "Kim" but I accept that might be a step too far for some people).
Some might be so ludicrous to say Kilner has gone too far in petitioning to mark quaint Canterbury with the superstar's moniker.
But many seem to be full-sail-ahead on board with the idea.
All hail Yeezus?
Citations: People Want To Rename English Train Station After Kanye West (Huffington Post)