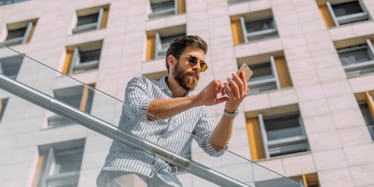 Tinder's Secret Version Lets Only Hot, Rich People Swipe Left On You
Studio Firma
Man, it was bad enough the people on Tinder didn't want me, but now I have to deal with the fact the secret VIP section of Tinder really doesn't want me?
Tinder is currently testing "Tinder Select," which can only be accessed if you've received an invitation. Needless to say, yo' girl Hopey Schreibz hasn't received an invitation since a birthday party in first grade.
The people who have been invited are some of Tinder's most "influential" users. This means they're rich, famous, successful and, naturally, hot as balls.
TechCrunch reports the VIP section will be on the Tinder app and not a separate app. This will probably make plebs feel bad about themselves, like when you look over at bottle service at the club.
People in Tinder Select will match with each other, but they can still match on "normal" Tinder, so don't give up hope, Cinderella.
Some Tinder Select users can invite others to join, but it's not really known how Tinder picked the cream of the crop. I suspect they enlisted someone who swiped left on me because I'LL NEVER BE GOOD ENOUGH FOR YOU, WILL I?!
In 2014, Tinder allowed celebrities to have verified profiles because too many people were assuming Zac Efron's account was a catfish.
So, congratulations, beautiful, rich people. Not only is it super easy to pick up a date in real life, but you're taking the one outlet I have into tricking people to date me after months of pretending to be Zac Efron.
Tinder Select is still in the "early test" stage, but it's only a matter of time.
It's not the first app to offer a more elite selection of possible suitors.
The League is members only and judges people based on their Facebook and LinkedIn profiles, with an incredibly long waiting list. But it had me as a member so it looks like they'd let a lot of riffraff in.
Citations: Tinder Select is like a secret VIP section for the rich, famous and hot (Mashable)