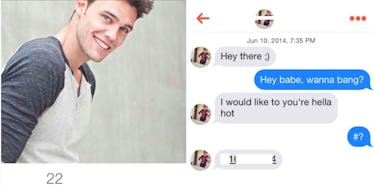 This Guy Used Model's Pics On Tinder To Prove Women Are As Shallow As Men
Body Building
I will be the first to admit I am shallow AF.
Dating apps were also a big part of my life for a hot minute.
It started out as a casual addiction, which slowly progressed into me having accounts on Tinder, Coffee Meets Bagel, The League, OKCupid, Her and whatever new one would pop up.
Of course, I was using it less for casual hookups and more for finding MY FUTURE WIFE.
When someone I considered hot mutually swiped right on me, my confidence boosted.
When someone I swiped right on swiped left, I was already 50 more people deep so I wouldn't have realized for a second someone could be considered "the one who got away."
OK, maybe you don't like the word "shallow." You just have standards, right? Why shouldn't you?
But for some reason, dudes are surprised women can also judge them based on their looks? As if they're the only ones who are capable of thinking with just their naughty bits?
Dudes are also surprised some women use a hookup app for the same reason they're using a hookup app.
Anyway, a user on a body building forum, GermanLifter, performed an experiment where he legit used photos of the model from Carly Rae Jepsen's "Call Me Maybe" music video, Holden Nowell.
This music video, if you don't recall, has the hilarious twist of Holden wanting to get with Carly Rae's guitarist instead of the singer...
GermanLifter profile read,
Six foot three, world traveler. Message me if you want to know more..
The man catfishing these young women was surprised to find out women would often message him first, instead of vice versa.
He did admit he got turned down a few times because his opening messages were quite crass, which he seems to do on purpose to find out how, as he writes, "slooty" these girls are.
(Side note: "Sluts" don't exist. Women are allowed to have sex if they want to. Shocker, I know.)
But, ah, what it must be like to be beautiful! This dude is able to come up with the worst possible pickup lines and still land some numbers.
Basically, the only thing shameful about this is these poor girls just got catfished by some dude who maybe feels a little insecure about his own appearance.
Citations: Guy Tries To See What It's Like Being On Tinder In 'Easy Mode' By Using Pics Of Male Models for His Profile Pic (Bro Bible)