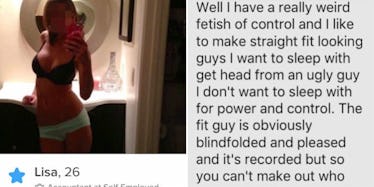 Nothing Could Prepare This Guy For Tinder Girl's Absurdly Specific Sex Request
Imgur
No one should be ashamed of his or her sexual fantasies.
We all have them, and some are simply more, shall we say, off the beaten path than others.
Take Lisa, for example. She's a super-hot 26-year-old accountant who describes herself on her Tinder profile as "dominant, young, free and single."
In terms of the kind of guy she's looking for, she writes,
Don't be a dik or full of yourself! Don't be shy, it's a turn off. Looking for outgoing adventurous dirty guys. Bi or obedient guys to the front!
One day, a potentially "outgoing, adventurous, dirty guy" reached out to Lisa after she gave him a super like on Tinder.
After getting "snall" talk out of the way, Lisa took the plunge.
She asked her brave and valiant suitor what his dirtiest sex fantasy is, presumably to see if she's on the same page of dirty as him.
To be honest, I'm not sure if anybody is on the same page as Lisa when it comes to sex.
Unfortunately, we don't get to find out what his fantasy is, though we know Lisa thought it was at least worthy of an, "Aww, that's actually cute."
Then, she reveals to him what has to be the world's most specific sex fantasy.
All right, so let's break this down.
She likes to have control.
In order to manifest that, her preferred fantasy includes a "straight-fit looking guy" who she would want to sleep with, but before that can happen, that guy must be blindfolded and "pleased" to receive a blowjob from an "ugly guy I don't want to sleep with."
And this all has to happen on camera.
Then, the fit guy must bring the video to her so they can watch it together while having sex.
But don't worry! As a reward for complying with such a meticulously crafted sex request, she says she'll let the guy do anything he wants to her.
Same, Jerry.
Again, there's no shame at all in knowing exactly what you want in the bedroom and being upfront about it.
But I can't help wondering how many guys would actually willing to go through all of that just to have sex with Lisa?
What about guys who are camera-shy? What about the so-called "ugly guy?" It doesn't sound like he's really getting much out of this whole situation.
Toward the end of her message, Lisa does admit she usually has to pay both guys in order for them to do all of this, but it's just what gets her off.
Hey, props to her for knowing exactly what she wants and not being afraid to put it all out there. Do you, Lisa.
Citations: Imgur