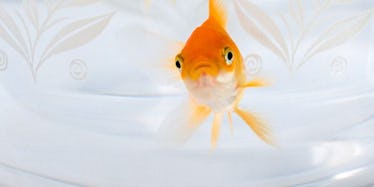 This Hotel Lets You Rent A Gold Fish If You're Lonely, So Who Says Love Is Dead?
Jelena Jojic Tomic
Traveling alone can get... lonely. It's not always easy to stay in a hotel without a companion, and one spot in Belgium is going viral for its anti-loneliness initiative. The forward-thinking hotel, called Hotel Charleroi Airport, lets you rent a gold fish if you're lonely. Because of its prime location near the airport in Charleroi, Belgium, the Hotel Charleroi Airport likely hosts many solo travelers who would relish the opportunity to rent a pet fish during their stay. (I definitely would.)
A Genius Idea
The rent-a-fish program entered the spotlight when Twitter user Michelle Cooke (@Mich_Cooke) tweeted a now-viral photo her friends, Rieke Gorter and Clin Jennissen — who were staying at the Hotel Charleroi Airport — sent her. She wrote in the tweet,
My friend is staying in a hotel in Belgium. They've offered her the option of renting a fish for the night, in case she's lonely. #noshit
In the photo, a friendly-looking orange and white fish can be seen inside a quaint, rock-filled fish bowl. Next to the bowl, a sign reads:
Alone in your room and want company? Rent-a-fish €3.50 / night.
Again, I'm personally sold on this rent-a-fish idea. Cooke's pals, however, opted against a sleepover with a lil Nemo, she later tweeted in an update.
Once the hotel staff noticed the unique program going viral (again, apparently), it joined the conversation on Twitter with a series of four tweets, reassuring fans that the fish are well taken care of and have been at the hotel for "over 4 years."
Needless to say, Twitter was on board (minus the whole announcing you're lonely thing).
Some people, including Cooke herself, would've preferred other animals.
In any case, Hotel Charleroi Airport is definitely swimming the extra mile as far as hospitality with close proximity to the airport is concerned. For €3.50 per night, why not rent a gilled companion for the duration of your stay?