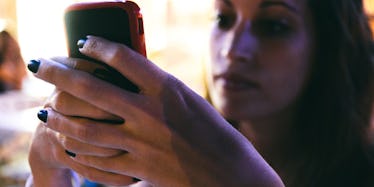 This CEO Might Allow Texting At The Movies And Society Is Officially F*cked
We're finally making moves to eliminate the very last remnants of civilization. Because here's the thing about civilization: It's dumb and we don't need it.
AMC Theaters currently leads the movement to drive a stake through civilized society after announcing they might allow 20-somethings to text freely during movies soon. New CEO Adam Aron said in an interview with Vanity Fair,
When you tell a 22-year-old to turn off the phone, don't ruin the movie, they hear please cut off your left arm above the elbow. You can't tell a 22-year-old to turn off their cellphone. That's not how they live their life.
Good thinking, Adam, because those same 22-year-olds are bound to rule this godforsaken new world someday. He went on to say that if they implemented the new policy, texters would be segregated to special cellphone-friendly theaters, "because today's moviegoer doesn't want somebody sitting next to them texting or having their phone on."
What? Who?! Which moviegoer is so behind the times they aren't looking forward to everyone's faces tilting down and all aglow during the tenth sequel to "Avatar?" Not me. I'm a hip, cool young person.
Citations: Finally, There's A Plan To Let Millennials Text During Movies (UPROXX)