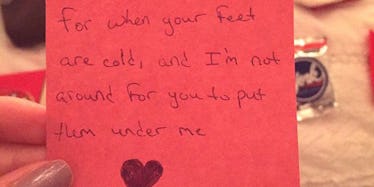 Teen Gives GF Who's 'Always Cold' The Most Adorable Winter-Themed Surprise
If you've been trying to resist the urge to find a bae and settle down for cuffing season, you might want to grab a sweater and look away.
We just came across an adorable pair of teens who will give you some serious relationship envy this holiday season.
A teenage girl named Grace, who is apparently always cold, recently returned home from a family vacation to find the most adorable winter-themed surprise from her thoughtful boyfriend.
Before leaving for her trip, Grace had told her man that she didn't want him to spend a lot of money on a Christmas present for her.
So instead of shelling out a shit ton of money for some jewelry or a designer purse, this creative guy spent his hard-earned cash on a truly meaningful way to show his girlfriend how much he cares.
Grace first found a note on her bedroom door from her boyfriend, whom she apparently refers to as "Sugar Plum" (seriously, can these kids be any cuter?), that apologized for not listening to her about the whole no presents thing.
Then Grace opened her door, and discovered that her gem of a boyfriend had decorated her room with twinkling fairy lights, which are one of her favorite things.
Since Grace's boyfriend is well aware that she's one of those people who are always cold AF, he covered her bed in fuzzy blankets and socks that would keep her warm throughout the frigid winter months.
Not to mention, he also scattered a bunch of her favorite chocolates across the bed, because he's clearly the most perfect goddamn boyfriend to ever walk the face of the Earth.
If that's not enough to make you shed some tears of joy (or make you cry about the fact that you're still single and lonely), Grace's boyfriend left another note on the bed that read, "The socks are for when your feet are cold, and I'm not around for you to put them under me."
Plus, this modern day Romeo even drew a little heart underneath his sweet message.
**Uncontrollable sobbing**
After discovering her winter-themed surprise, Grace did what anyone in her situation would do.
She snapped pics of her boyfriend's precious presents and then shared them on Twitter along with the caption,
He knows that I'm always cold and that I love Christmas lights so he surprised me when I got back from vacation.
As you can probably imagine, it didn't take long for this sweet gesture to go viral. The post has since gained thousands of likes and retweets.
A lot of people have been saying that Grace's boyfriend is goals AF.
Because let's be real, this might just be the best Christmas present that ever existed.
Other girls used Grace's post as an opportunity to tell their own boyfriends that they're seriously slacking with the romantic gestures.
Not to mention, they should probably take note and try to learn a few tricks from this Prince Charming IRL.
Now if you would excuse me for a moment, I need to go put on some fuzzy socks, cuddle a blanket and cry my eyes out because I'm still not over how effing adorable these kids are.
Citations: This boy's romantic winter surprise is setting stiff competition for boyfriends everywhere (Metro)