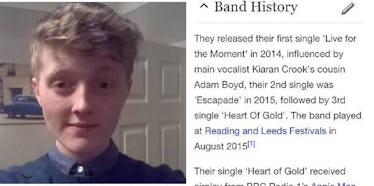 Guy's Genius Wiki Hack Can Get You VIP Access To Your Fave Concerts And Shows
Facebook
In a scheme to end all schemes, a British teenager successfully managed to feign his way into the VIP section of a concert after changing the performing band's Wikipedia page to say he is the lead singer's cousin.
Adam Boyd, from Crewe, executed his genius plan on February 10, when he saw The Sherlocks perform live at the Albert Hall in Manchester.
He was disappointed with his view of the stage, and instead of sucking it up and enjoying the show like a normal concertgoer, he took matters into his own hands.
Boyd noticed a bouncer guarding a VIP section and decided it was worth a shot to try to get in.
Surely, the bouncer would believe he was a relative of someone in the band, right?
Well, if he didn't, Boyd edited the Wikipedia page to "prove" it. #AlternativeFacts
Boyd didn't just edit the page to lie about his relation to Kiaran Crook, the lead vocalist of The Sherlocks; he actually claimed he was the influence behind one the band's hit singles.
That's how you know he's ~super~ VIP material.
Boyd said,
I cannot believe it worked. I was expecting to be kicked out for trying.
Frankly, I can't believe it worked, either. This bouncer must be ignorant AF.
Boyd proceeded to brag about his victorious sham on Facebook. His post currently has over 1,000 likes.
Despite his success, Boyd didn't really enjoy the concert much, as he was all alone in the VIP section. He described the area as "hectic" and rejoined his friends shortly afterward.
He explained,
There were all these photographers running around, trying to get the best angles, and waiting for them to come on stage. It was hectic.
Awww, is it lonely at the top?
This is a pretty clever, little life hack, but in all seriousness, who actually trusts Wikipedia anymore as a reliable news source?
Actually, something tells me I don't want to know the answer to that question.
In which case, yes, OF COURSE, I'm Lady Gaga's cousin's brother's dog's godmother, and yes, "Perfect Illusion" was written about me! *wink*
Citations: Teenager blags his way into the VIP section of gig after changing band's Wikipedia page to say he's the singer's cousin (MailOnline)