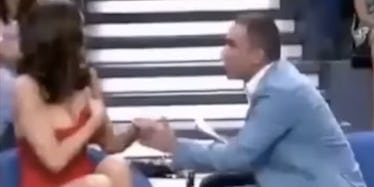 No One Believes This Guy Pulling Out A Woman's Boob On Live TV Was An Accident
YouTube
Welcome to our Monday nip-slip investigation*.
*This is not a thing.
Today we're looking into the case of a handsy TV host. You may have come across the video this weekend.
The short clip went viral overnight because opinion is split on how said slip came about.
The footage, taken from a TV show in Spain, shows a host grab at a the side of a guest's dress, revealing her breasts to the audience. Apparently, it happened while filming live. Take a look:
So, what's the deal here? Was this an intentional tug and reveal, or just an accidental snag by the TV host?
Let's break it down frame by frame:
So, the host is reading from a piece of paper when he goes to grab his guest's attention. He paws at her without looking:
For a moment, he carries on chatting to the guest and audience, seemingly unaware her boob is exposed. She doesn't seem to know, either.
He then leaps from his chair in panic as soon as he realizes what he's done.
Genuine reaction or good acting? Well, here's where our investigation gets interesting.
After the initial slip, a few things indicate it was in fact an intentional tug and flash.
For a start, the camera immediately zooms in on her chest as she fumbles to restore her modesty.
Now, exhibit B: A slo-mo replay of the nip-slip quickly gets played on the giant screen behind them -- and it doesn't stop even though she looks visibly distressed.
Our final piece of evidence shows the guest storming off stage. She looks angry.
But again: Is this genuine emotion or just good acting?
Conclusion: Elaborate hoax.
While the TV host's grab and reaction look genuine, there's too much evidence pointing to a set-up by sneaky producers.
Thanks for taking part in this week's nip-slip investigation. See you next Monday.