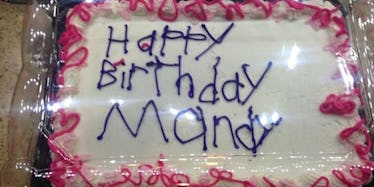 A Photo Of A Supermarket Birthday Cake Is Going Viral For The Best Reason
In the wake of Black Friday, let's reflect upon a brief moment when consumers were not the scourges of the Earth.
Lisa Sarber Aldrich stopped into her local Meijer, a Midwestern grocery chain, to pick up a birthday cake.
When Aldrich asked the woman working at the supermarket's bakery to write on the cake, the woman agreed and, after a bit of a wait, handed Aldrich the finished product below.
Picked out a cake at Meijer. Asked bakery-looking-employee if she could write on it for me. She said she would, and... Posted by Lisa Sarber Aldrich on Sunday, November 29, 2015
In a post on Facebook, Aldrich recalled the interaction with the woman. She wrote,
I looked her in the eye and said thank you before I even looked at the cake. After looking, I nervously laughed and headed to check out- it didn't really matter to me that it looked so bad- I thought people would think it was funny.
Meijer employees caught a glimpse of the cake at self-checkout and alerted a manager.
Aldrich wrote,
To my surprise, after they discussed it, one cashier put her arm on my shoulder and said 'the girl who wrote that has autism. Thank you for smiling and thanking her- even though she's not supposed to write on cakes, you probably made her day.'
In the three days since posting her story, the cake customer saw her post shared over 94,000 times.
As for the bakery employee, Aldrich assured people she was not reprimanded.
In a comment on the post, she added,
I talked to the store manager today. The wonderful lady who helped me with the cake did NOT get in trouble- they told her to do whatever she needed to do to serve the customer's needs, and she did just that.
Die-hard deal finders may want to remember this tale each time they consider clotheslining fellow shoppers over toasters on clearance.