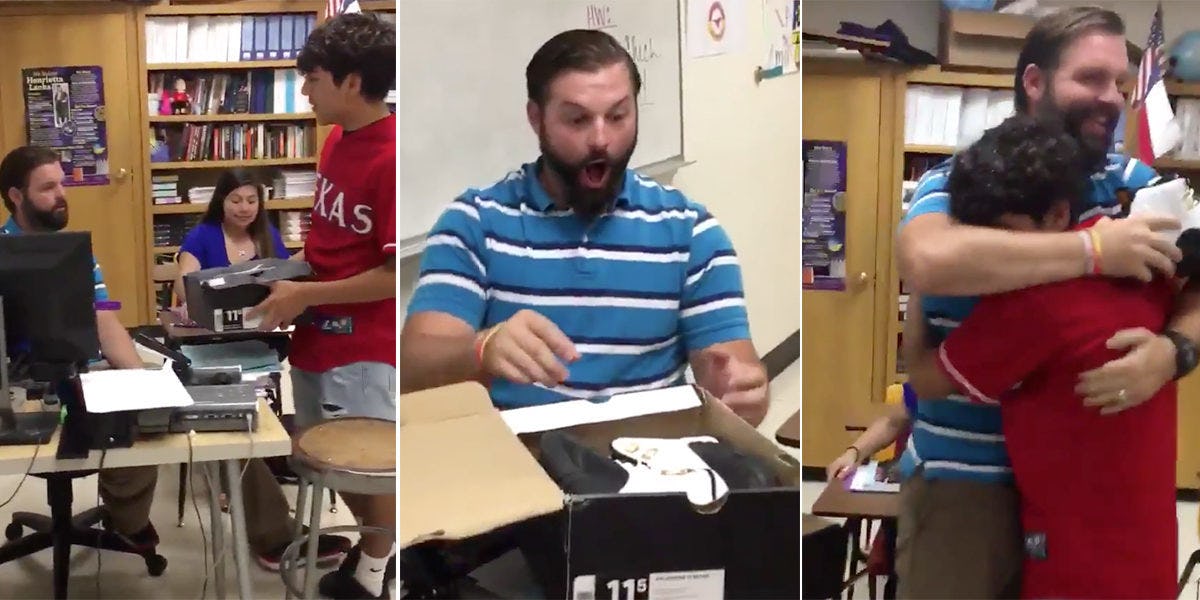 Boy Gets Coach Nikes He's Wanted Since 6th Grade And No One's Ever Been Happier
Twitter
His reaction said it all.
On Thursday, Hector Montez made a heartwarming gesture toward coach Thomas Walser of Lubbock, TX, and the reaction has been sensational.
Thousands of people have been sharing the viral video that shows the amazing moment when Montez gifts Walser a pair of Air Jordan sneakers that the teacher says he's wanted since the 6th grade.
Its good to give back to the man who's always been by my side. @CoachWalser pic.twitter.com/W4Sb5tMPim — Hector Montez (@Augustine__09) September 22, 2016
The video begins with Montez walking up to Walser's desk as the teacher looks on, seemingly confused. Montez tells Walser that he remembered the coach saying that the Air Jordan "Taxi" 12 sneakers were his favorite shoe.
Once Walser realizes his student isn't bluffing, the reaction is priceless.
Walser, whose Twitter bio says that he serves as the defensive coordinator for the Coronado football team, could barely put together a sentence after he received the gift. He ended up hugging his student three times.
And, of course, he just had to try on the shoes right then and there.
Of course, like a true man who knows his Nikes, Walser pointed out that the sneakers didn't match the pants he had on at the time. On Friday, though, it looked like he'd addressed that problem.
Walser posted a picture of himself in his brand new sneakers with his students.
Montez also posted a picture of himself with Walser on Friday.
Jumpman Jumpman Jumpan pic.twitter.com/n2ygEA7jQ2 — OG alex® (@aleeeeex_OG) September 23, 2016
Oh, and if you don't understand how these Nikes could be so elusive, let me break it down.
If you didn't have enough money to buy certain Jordan sneakers when they were originally released in the '90s – which seems to be the case with Walser – the only way to purchase them now is through Nike's special release dates.
Even when those dates arrive, though, the sneakers are released in limited quantities. Once they're gone, they're gone.
So, it's very conceivable that Walser simply never had a decent chance to get the shoes he's coveted since middle school.
This week though, he got them. And it was all thanks to a special gesture from one of his students.