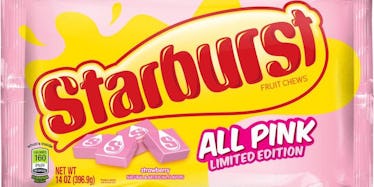 Starbursts Is Releasing Pink–Only Packs Soon – Here's Where You Can Stock Up
Starburst
Opening a pack of Starbursts that contains more than one pink flavor is the equivalent of winning the lottery.
The strawberry-flavored candies have been a crowd-pleaser for as long as I can remember. They might as well be our generation's version of the Golden Ticket.
The excitement upon discovering one is truly indescribable.
If you have an uncontrollable passion for pink Starbursts like the rest of us, you'll be excited to know the Starbursts gods have answered our prayers.
After noticing how much people LOVE strawberry-flavored Starbursts, the company finally decided to create pink-only packs.
ALERT: PINK-ONLY STARBURSTS PACKS ARE COMING.
Go ahead. Do a happy dance and make room in your candy drawers because come April, you're going to need it.
Senior Director of Confections at Wrigley told Mashable the company's reasoning behind creating pink-only Starbursts packets, saying,
On social media we're seeing people talk about pink Starburst more than any other flavor; there's even a meme about being treated 'like a Pink Starburst.' The Pink conversation and fanfare has continued to grow so we decided to act.
It's about time! SHEESH.
I'm going to have to prepare myself for the massive amounts of pink Starbursts I'm about to purchase because it won't be around forever.
The all-pink packs will be released in April for a limited time, which means we'll need to stock up.
I know you're probably wondering where you can purchase these pretty little candies come April, so listen up.
The stores that will be selling the highly-anticipated pink-packs of Starbursts include Walmart, Target, Walgreens, Kroger, Meijer, Amazon and H-E-B.
Now that you're aware of how to purchase the goods, start saving up and get ready for a strawberry-filled springtime.
And if you're a total outcast who doesn't appreciate the juicy goodness of a strawberry Starburst, please don't rain on our pink parade, OK? Let us have this.
Citations: All pink Starburst packs are in your future (Mashable)