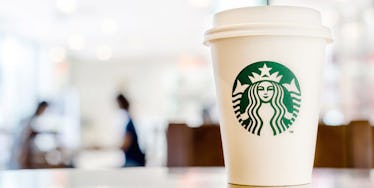 There's Another Amazing Starbucks Secret Drink You Might Not Know About
Shutterstock
We've all heard stories about the Starbucks Secret Menu. It's a magical place where the sugary drinks of your dreams are made.
But if Cap'n Crunch Frappuccinos and Raspberry Cheesecake Lattes aren't your things, allow me to introduce you to the Secret Menu's newest resident: Mexican Hot Chocolate.
This spicy, chocolatey, homey drink is not just a winter classic; it's a rather sophisticated one for the international coffee chain.
It may not be on the menu officially, but that doesn't mean you can't order one up for yourself on the DL.
First, order a Tall hot chocolate made with steamed soy milk. Ask your barista to add cinnamon powder to the milk before steaming, so it mixes in evenly.
Add one pump each of mocha syrup and white mocha syrup (or 1.5 pumps for a tall and two for a Venti). Next, add two pumps of cinnamon dolce syrup (or 3 for a Grande and four for a Venti).
Finally, have your barista add whipped cream and top with more cinnamon powder. Voilà!
I'm not saying this drink is any better for you than Starbucks' signature holiday drinks — it's just as sugar-laden — but it's infinitely more special than your umpteenth Peppermint Mocha.
Facing the cold has never been so delicious.
Citations: Did You Know You Could Order Mexican Hot Chocolate at Starbucks (Cosmopolitan)