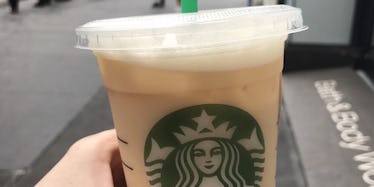 Starbucks' Piña Colada Tea Infusion Tastes Like Paradise In A Cup, So Go Try It
Amanda Fama
Starbucks is really stepping up their game when it comes to summery drinks, and their newest menu item is probably the most tempting release yet. It's the Starbucks Piña Colada Tea Infusion, and it'll inspire you to island hop in the tropics with every sip. Once it was released, I knew I had to give it a try.
On Monday, July 24, I walked through the urban jungle to my nearest Starbucks with hopes that the new piña colada-inspired bev would send my tastebuds on a tropical vacation, and I was pleasantly surprised. It totally did, and the flavors were the perfect combination or sweet and refreshing.
Before I get into detail about Piña Colada Tea Infusion's bold taste, take a look at the drink so you can get a better ~visualization~ of what I'm talking about. Even on a cloudy day in Manhattan, the iced tea shines. (Excuse my un-manicured nails. I meant to paint them over the weekend.)
OK, let's get into detail about the drink's taste.
After my first sip, I was overwhelmed by hints of pineapple and coconut, which makes total sense. According to Starbucks' press release, the drink is made with Teavana black tea, pineapple fruit and botanical blend, and coconut milk. Hence, a tropical vacation in your mouth.
As I kept sipping, the "tea" flavor became more and more prominent. I liked this sensation, because it mellowed the pineapple sweetness of the drink and let me indulge in the black tea taste that I've known and loved.
However, one of my favorite parts about this drink is definitely the coconut milk. I'm a coconut milk fan in general, but I never thought about adding it to my tea before. The combination of creamy coconuts and pineapples created the perfect piña colada taste, and I highly suggest you try it.
Heck, it'd probably be pretty great as a real piña colada, too (if you know what I'm saying).
If I've convinced you enough to give the Piña Colada Tea Infusion a try, stop by your local Starbucks and treat yourself. You can buy a Tall for $3.25, which is definitely worth an imaginary trip to paradise.