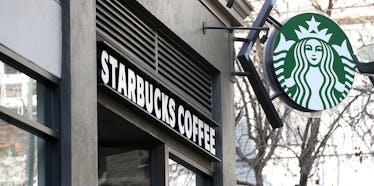 There Might Be A Starbucks Super Store Opening In A City Near You
Getty Images
You know what's cooler than a million little Starbucks? ONE GIANT STARBUCKS!
Rumor has it Starbucks might be gearing up to open 15,000- to 25,000-square-foot coffee centers. To give you some frame of reference, that would be about 30 times the size of my apartment in Manhattan and about half the size of a regulation football field.
The company already has one 15,000-square-foot location in Seattle, Washington called the Starbucks Reserve Roastery and Tasting Room, which as far as I can tell, seems like a very fancy Starbucks with a very large gift shop.
Starbucks originally spoke of plans to open 100 more of these roasteries across the US when the Seattle one was announced in 2014. But a spokesperson told Cosmopolitan recently the company could not comment on the mega coffee center rumors.
Well, go big or go home, right? I mean who DOESN'T need 25,000 square feet to order a coffee?
Imagine: You're waiting in line for your morning brew, you look to your left and see... a lot of f*cking space! Sure, it's not really doing anything, but it's there -- maybe with a tasteful abstract sculpture and a minimalist shelf of merchandise no one ever buys.
Don't you feel loved by corporate America?
Citations: A Starbucks Megastore May Soon Be Coming to Your City (Cosmopolitan), Starbucks begins search for mega coffee center in NYC (New York Post), Debut of Starbucks Reserve Roastery and Tasting Room in Seattle Will Redefine the Retail Experience (Starbucks Newsroom)