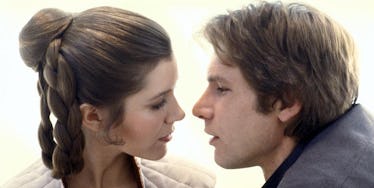 Couple's Gorgeous 'Star Wars'-Themed Wedding Is A Nerdy Dream Come True
20th Century Fox
The Force is strong with this wedding.
Back in November, Courtney Titchmarsh of Hamilton, New Zealand (hold on, I need to figure out what "Hamilton" would sound like in a New Zealand accent) married her longtime boyfriend and "Star Wars" fan Gareth.
So, to surprise Gareth, self-described "nerd" Courtney secretly planned for a special guest to walk with her down the aisle.
That's right, she had a Stormtrooper as her matrimonial escort and not only that, but it looks like Courtney set her dress for stun...ning.
Basically, that was my attempt to make a deep "Star Wars" cut while complimenting Courtney and it blew up in my face like the first and second Death Star.
Apparently, Gareth got a real kick out of the imperial companion. Courtney told Daily Mail Australia,
I thought it would be a really fun surprise.
The best part is a charitable organization sent the Stormtrooper for free in exchange for a donation to a charity.
No word yet as to whether or not Courtney walked down the aisle to the "Imperial March" instead of the "Wedding March."
The Stormtrooper was sent courtesy of Outpost 42, which is the New Zealand branch of the global group called the 501st Legion.
I've got to say this Stormtrooper was a great sport.
A Stormtrooper that dabs? It almost makes you forget Stormtroopers are the bad guys in the "Star Wars" films.
OMG, DID THIS STORMTROOPER JUST CATCH THE BOUQUET?!
According to Courtney, she donated to the Child Cancer Foundation. My response?
I'll keep this offer in mind if I ever get married. I'm still looking for the Leia to my Han out there on the dating scene (but I will settle for a Wookie if needed).
The icing on top of the cake? Her cake ~literally~ had an R2-D2 and BB-8 on top of her cake. BEEP BOOP!
These ARE the droids you're looking for.
Citations: May the force be with you... til death do us part! 'Nerdy' bride arranges for a STORMTROOPER to walk her down the aisle (and the groom didn't have a clue) (DailyMail.com)