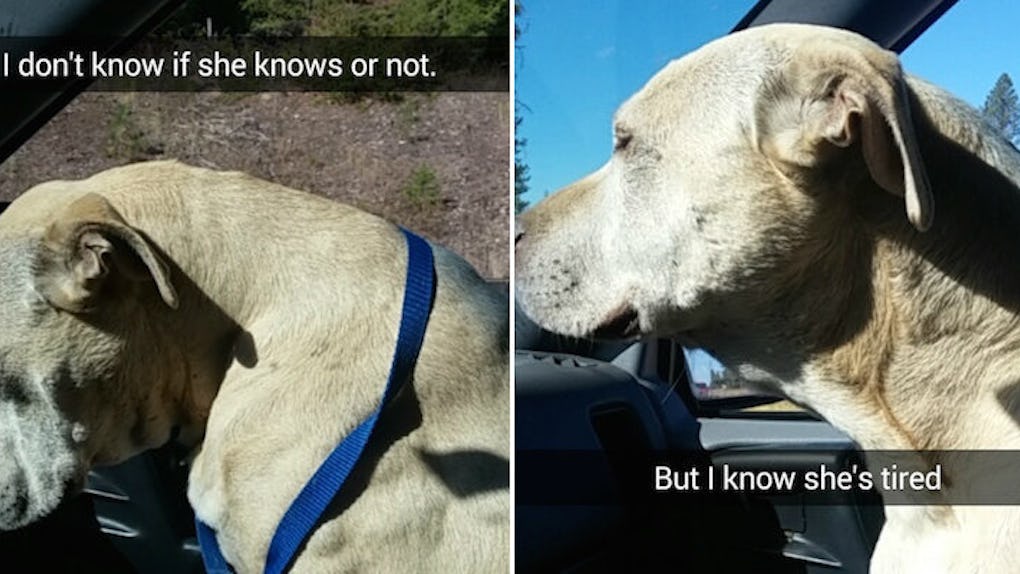 Imgur
Woman's Snapchats Of Last Day With Her Dog Will Seriously Bring You To Tears
Get ready for the waterworks because it's about to get emotional AF up in here.
An Imgur user recently posted a series of Snapchats titled "Dogs are too amazing to let go, but sometimes it happens and they will forgive you," which chronicles an owner's last day with her dying dog, Hannah.
For around two months, Hannah had been experiencing small seizures that progressively got worse, and she was also dealing with constant pain in her elbows and hips. Without medication, Hannah wasn't able to walk and could barely make it up the stairs of their home.
Like any loving pet owner, the woman didn't want Hannah to suffer any longer than she had to.
She explained,
I finally decided that keeping her on the meds was selfish, but keeping her off of them was just as cruel.
So, the woman decided to treat her furry BFF to a day full of love, pampering and McDonald's to celebrate "the queen she's always been" before taking Hannah to the vet to be put down.
Hannah's day started with a car ride, a pup's favorite activity.
Then, Hannah and her owner headed to the groomers for a full-on doggie spa day.
Hannah even ended up getting a temporary tattoo...
...and a beautiful bandana.
What would your last day on Earth be like without some delicious treats?
After that, Hannah headed home to say her last goodbyes to all her friends and family.
A day of doggie pampering wouldn't be complete without a mani-pedi.
Then, it was time for her owner to say one final goodbye to Hannah.
RIP, Hannah. We all know you're living your best life in doggie heaven with the rest of your fluffy pals.
Citations: Heartbreaking pictures guaranteed to move EVERY pet owner to tears: Woman treats her dying dog to fun-packed final day before taking her to the vets and saying goodbye... (Daily Mail)